Baltic Escape and Mediterranean Getaway
Includes a FREE All-Inclusive Drinks Package
FREE Outside to Balcony Upgrade | Price Reductions: Save up to $1,000 per couple
Get the full experience...
Embark on this incredible double cruise adventure where you'll explore highlights of the Baltics and the magical Mediterranean, as well as enjoy hotel stays in Copenhagen and Rome.
Copenhagen, Denmark's capital, known for its tranquil canals, trendy eateries and cobbled walkways is where your holidays begins. Here you'll embark Norwegian Escape, one of the most exciting ships sailing the oceans.
Admire the grand architecture of Warnemunde and explore Tallinn's Old Town before arriving in St. Petersburg. As Russia's cultural treasure chest, you'll find opulent theatres, breathtaking art galleries and grandiose statues. Helsinki awaits, awash with art-nouveau architecture before reaching Stockholm. Delve into the alluring charms of the city's two UNESCO World Heritage Sites or lose yourself in the medieval Old Towns.
Arriving back in Copenhagen, you'll disembark your ship and fly to spectacular Rome for a hotel stay. Home to a striking array of landmarks including the iconic Colosseum and Trevi Fountain, you'll find plenty to explore.
At Civitavecchia, you'll embark the sensational Norwegian Getaway and begin your cruise around the magical Mediterranean. Uncover beauty in Kotor before admiring spectacular views of the glittering Adriatic in Dubrovnik. From here, you'll immerse yourself in the striking landscapes of Greece, highlights include the pristine beaches and shimmering waters of Corfu and Santorini, awash with bright white buildings, topped with blue-domed roofs.
Leaving Greece behind, you'll reach Naples, gateway to historical Pompeii. Your penultimate stop before disembarking back in Civitavecchia is Livorno. Capture your own iconic photograph of Pisa, or lose yourself in the allure of Florence – home to the stunning Duomo.
Package Includes
All flights, taxes & transfers
All-Inclusive Cruises
9 night Baltics cruise on board Norwegian Escape with all meals and entertainment
11 night Mediterranean cruise on board Norwegian Getaway with all meals and entertainment
FREE Outside to Balcony Upgrade
Receive these FREE At Sea Offers when booking ANY cabin:
Free all-inclusive drinks package
$50 shore excursion credit per port
Free specialty dining package
Free Wi-Fi throughout your cruise
Hotel Stays
1 night four-star hotel stay in Copenhagen with breakfast
1 night stay at the four-star Hotel San Giorgio in Civitavecchia with breakfast
At a glance

Prices from
Inside
Price based on 12 Sep 2021 departure
Outside
Price based on 12 Sep 2021 departure
Balcony
Price based on 12 Sep 2021 departure
Suite
Price based on 12 Sep 2021 departure
Here to help
Call to book:
1800 924 450
Opening hours:
AWST: Mon to Fri 7am - 5pm | Sat & Sun 7am - 2pm
St Petersburg
Once the imperial capital for two centuries, having been founded in 1703, St Petersburg remains to this day, Russia's cultural centre. The city boasts incredible venues such as the Mariinsky Theatre hosting opera and ballet, and the State Russian Museum showcasing Russian Art.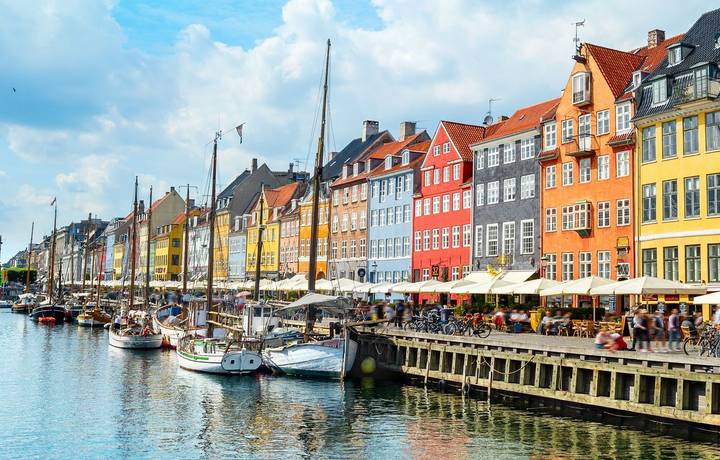 Discover Copenhagen's dreamy canals on a boat tour, shop for contemporary Danish designs in the many boutiques and knock back a frosty glass of beer in one of the city's many bars. Other highlights include the colourful 'freetown' of Christiania, taking in a performance at the award-winning Opera House and cycling around the famously bike-friendly streets.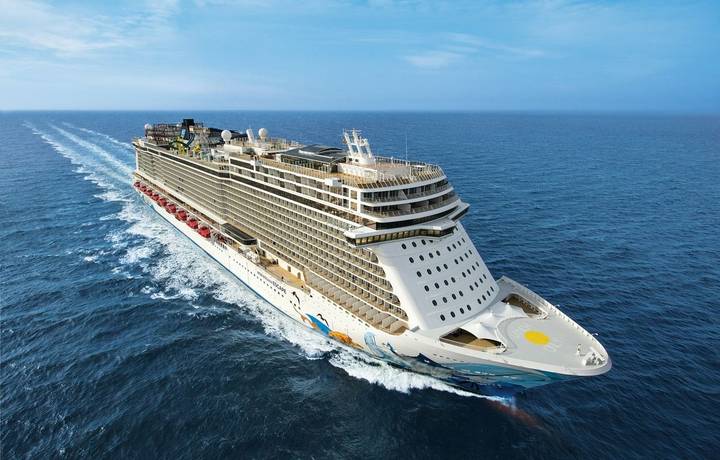 Copenhagen
- Embark NCL Escape
Climb on board one of the most exciting ships that sails the seas. Elegantly decorated with a perfect blend of relaxing retreats and lively ambience on board, you'll find a wealth of entertainment and activities on board to indulge in the most memorable time at sea. Enjoy the flexibility of Freestyle Dining in one of the 25+ dining experiences, immerse yourself in Broadway hits like After Midnight in the extravagant theatre, chase sunsets on The Waterfront and treat yourself to a divine spa treatment in the luxury Mandara Spa and Salon.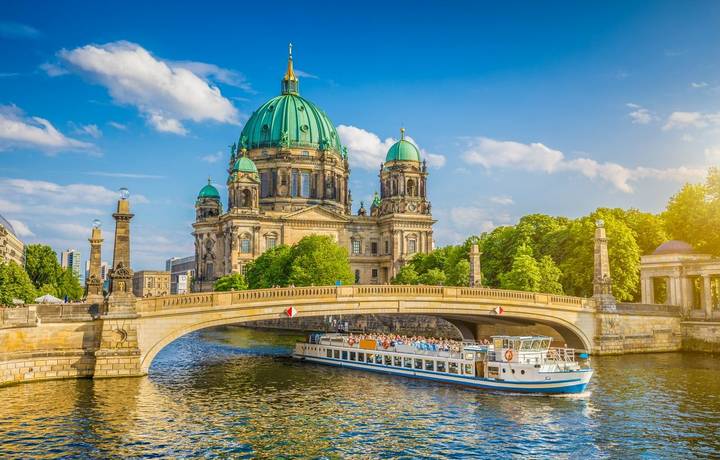 With its long coastline of attractive beaches and a colourful marina, Warnemunde is a delightful introduction to Germany. You'll dock here as the gateway to Berlin, where you'll discover the fascinating war memorials like Checkpoint Charlie, and the grand architecture such as the neoclassical Brandenburg Gate. While here, don't miss the chance to view the remaining section of the Berlin Wall at the outdoor memorial.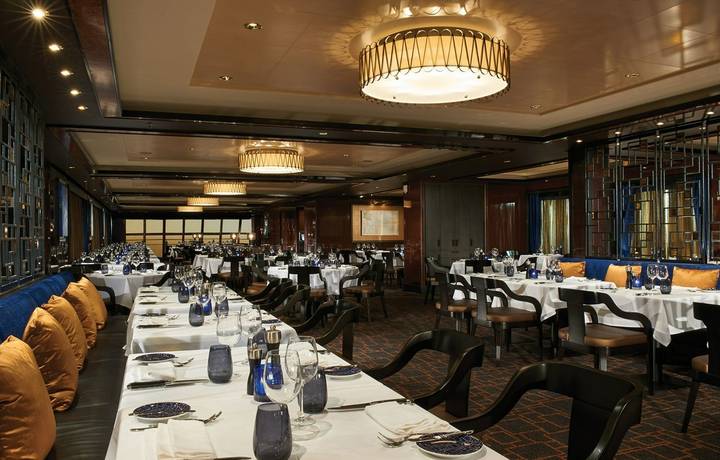 There's a culinary delight to please every palate on board, with complimentary dining options including two main dining rooms, a help-yourself buffet and a variety of casual cafés, grills and on-the-go choices. Or enjoy a gastronomic treat at one of the many speciality restaurants that include Italian and French cuisine.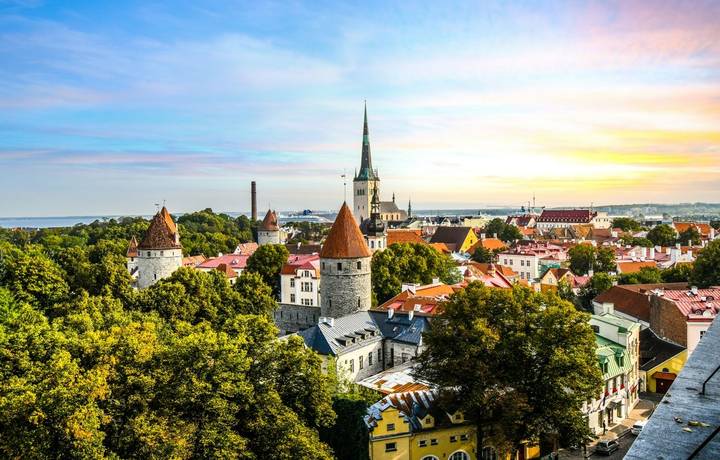 With its quaint Old Town, striking palaces, fascinating museums and airy green spaces, the capital of Estonia is home to one of the best-preserved medieval cities in Northern Europe and was designated a UNESCO World Heritage Site in 1997. Take a stroll around the cobbled and walled streets and gaze up at its 15th-century towers, Gothic Town Hall and 13th-century churches, like the ornate St Nicholas Church.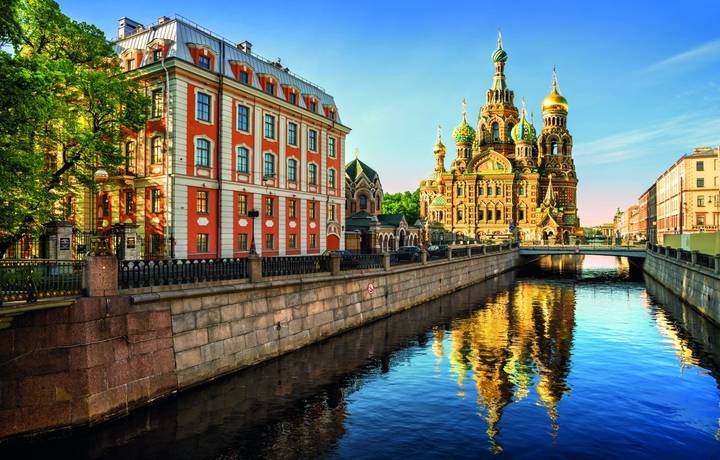 St Petersburg (Overnight in Port)
St Petersburg is the treasure chest of Russia: with its ornate churches, grand boulevards and lengthy history, there is much to explore. With its location on the Baltic Sea, the surrounding scenery is just as breathtaking, even more so during the city's famous 'white nights' – during midsummer the sun barely slips below the horizon. With a night in port you'll have a chance to explore the city into the evening.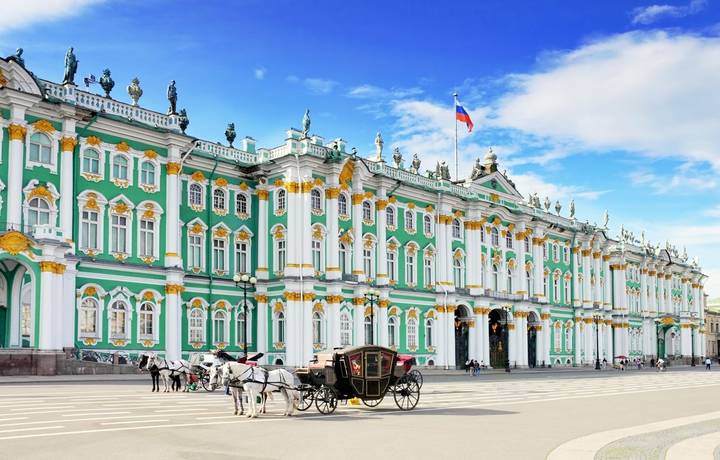 As the second-largest city in Russia after Moscow, St Petersburg offers much to explore. With its enormous port, grand bronze statues and opulent theatres, you'll get a glimpse into the country's impressive history. Art lovers shouldn't miss a visit to the Hermitage Museum, which holds a treasure trove of fabulous artefacts.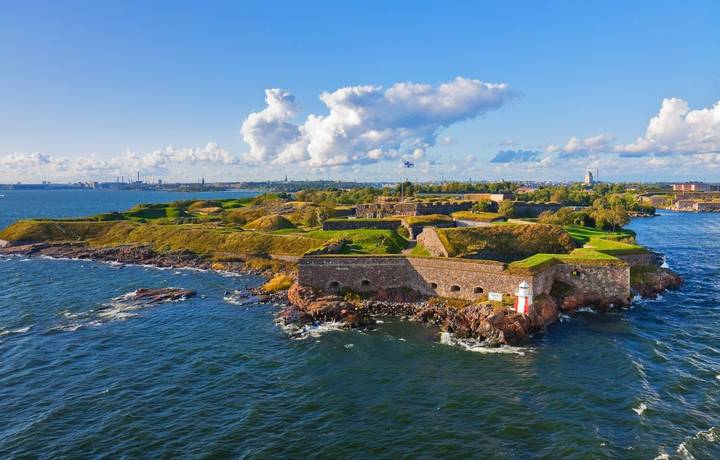 Helsinki, Finland's beautiful capital with its many islands and inlets is famed for its stylish design and architecture. Easy to explore on foot, the city is home to the UNESCO World Heritage Site Suomenlinna also known as the 'fortress of Finland' and the fascinating art-nouveau style Kansallismuseo. Highlights include the Kiasma museum of contemporary art and the concert hall Musiikkitalo, while the train station is a beautiful example of art nouveau architecture.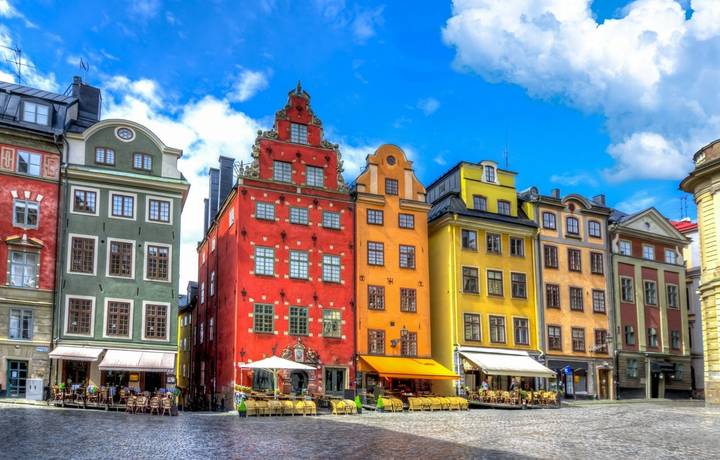 Built where the Baltic Sea meets with Lake Mälaren, Stockholm offers sparkling clear water, medieval old towns and cutting-edge fashion and shops. It has an array of museums, galleries, friendly cafes and restaurants. Don't miss Stockholm's two UNESCO World Heritage Sites: The Royal Palace Drottningholm, Sweden's best-preserved royal palace constructed in the seventeenth century and the permanent residence of the royal family and the magical Skogskyrkogården, or Woodland Cemetery.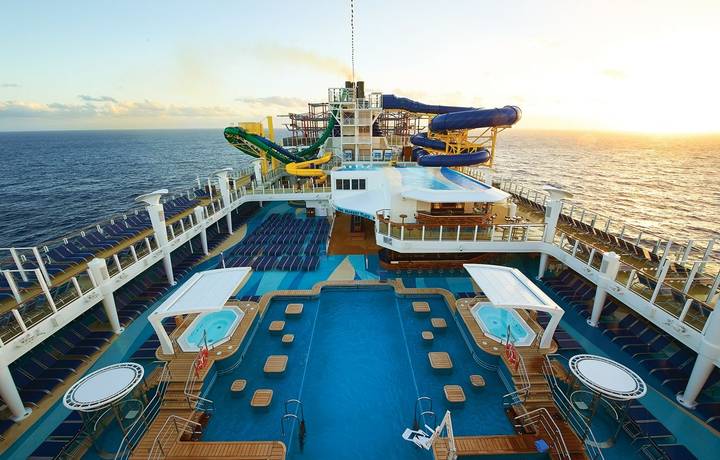 For a relaxing day at sea, head to the Mandara Spa to refresh and rejuvenate body and mind. Featuring a Snow Room, Salt Bath, sauna, samarium, an aromatic steam bath, a hot tub and a variety of pools, it's the perfect place for the ultimate in relaxation.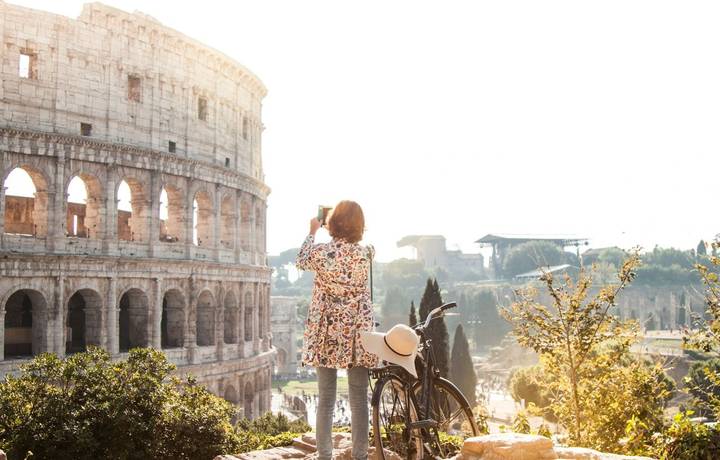 Copenhagen
- Disembark NCL Escape & Hotel Stay
Your discovery of the beautiful Baltics complete, today you'll disembark your ship in Copenhagen and transfer to the airport where you'll fly to Rome for a hotel stay. Italy's capital is adorned with ancient sights, where you can follow in the footsteps of gladiators and emperors to the Colosseum and the Roman Forum. Experience la dolce vita for yourself walking around Trastevere where you'll see the Rome from the movies: a family-run trattoria on every corner, street stalls piled high with glossy fruits and vegetables and gelato stands providing the perfect refreshment.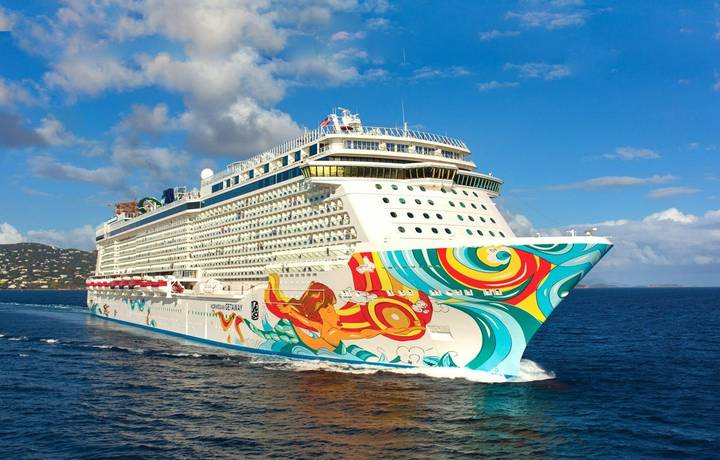 Civitavecchia
- Embark NCL Getaway
Norwegian Getaway is a sensational ship that is guaranteed to keep you entertained. Indulge in more than 28 dining options, experience the thrill of five water slides, and three levels of action-packed activities in the sports complex. The excitement continues with the Broadway musical, Million Dollar Quartet.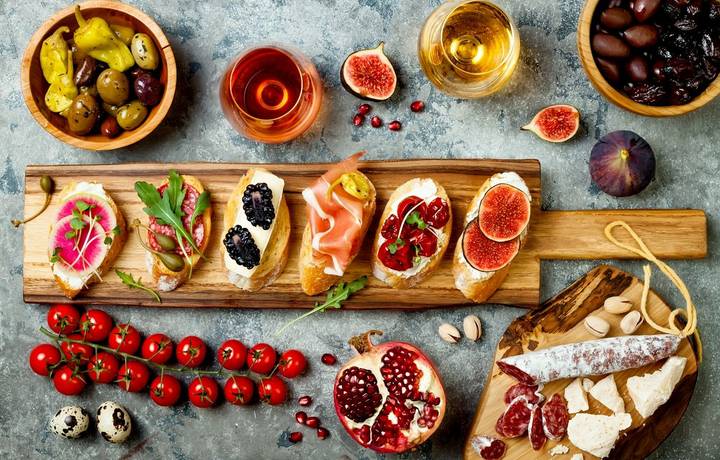 You can enjoy world-class cuisine in the more than 28 restaurants and casual eateries on board Norwegian Getaway. From Mediterranean, nouveau and classic cuisine in the signature French restaurant, Le Bistro, to premium cuts in Brazilian steakhouse, Moderno Churrascaria. With so much choice you may not get to sample them all – but it will be fun trying!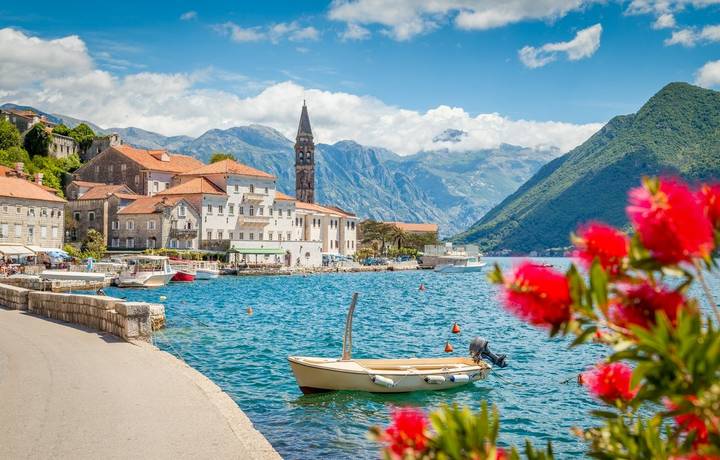 Located along one of the world's most beautiful bays, Kotor is a city of traders and famous sailors, with many stories to tell. Head to St. Tryphon's Cathedral and admire the most impressive building in Kotor, before ascending upstairs to the Sacral Art Museum. Or, explore Kotor's maze of winding streets and the treasures within where you can indulge in some appetising Montenegrin cuisine of smoked ham, cheese and olives.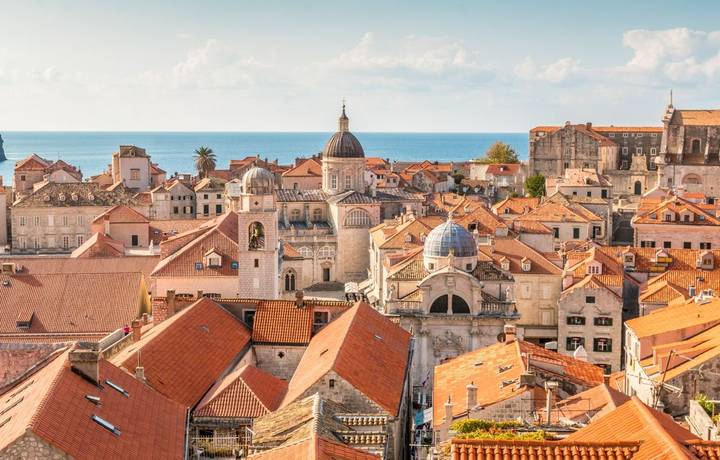 Today you'll discover beautiful Dubrovnik, known as the Pearl of the Adriatic and renowned for its distinctive Old Town, encircle with towering stone walls. Talk a walk around the city walls and gaze upon the fantastic view of the Old Town and glittering Adriatic or, discover more about Dubrovnik's history at the Cultural History Museum, once the palace for the elected rector who governed in the late 15th Century.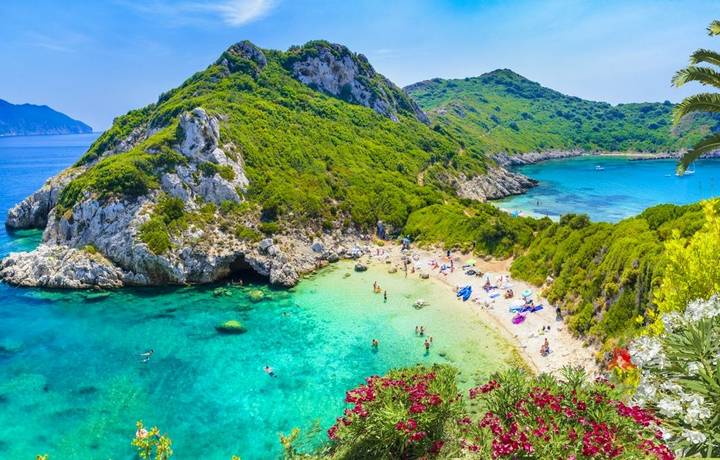 The Pearl of the Ionian Sea, Kerkira, offers shimmering, crystal blue waters, spectacular scenery and pristine beaches. Head to Corfu Town, known for its cobblestone streets and pastel coloured Venetian architecture and enjoy the bustling atmosphere, infused with culture and history. Stroll along to the Esplanade, a landscaped park near the water and gaze out in wonder of the island's past, picturesque landscape and tranquil surroundings.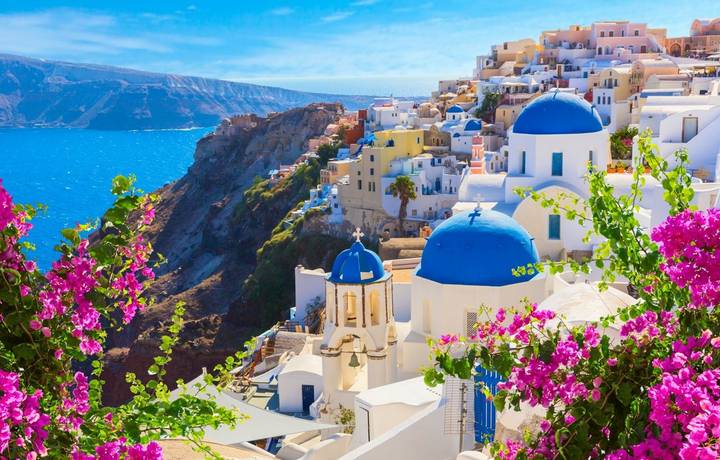 The beautiful gem of Santorini sits proudly in the gleaming waters of the Aegean Sea. Famous for dramatic views, stunning sunsets and iconic blue-domed churches that leap out against the striking white buildings, Santorini is one of the most beautiful destinations on earth. Take the winding coastal paths to Akrotiri and view a preserved Bronze Age settlement before stopping at a local restaurant to indulge in exquisite Greek cuisine.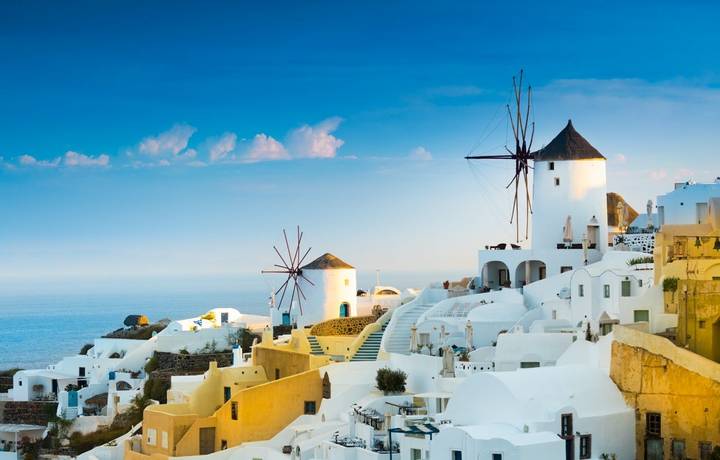 Mykonos is a picture-perfect island filled with whitewashed steps and square houses, with attractive blue doors. Take a walk along the waterfront, where fishing boats cast their reflections upon the bright blue waters, or stroll around the narrow marble-clad streets lined with quirky shops.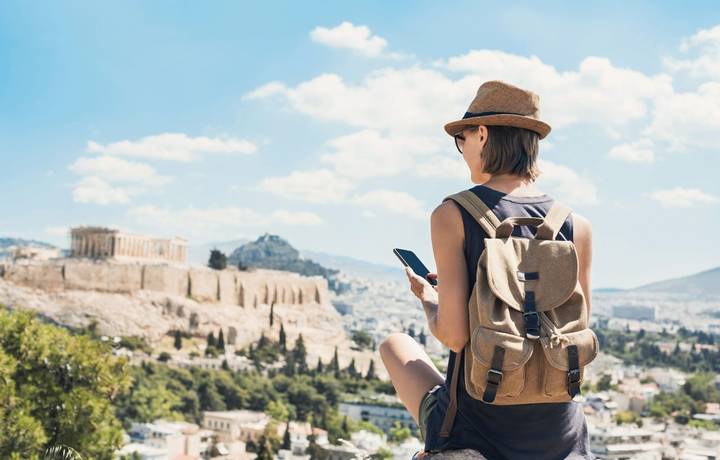 The birthplace of democracy, the capital of the Greek civilisation: Athens has ruins everywhere you turn, with the stately Acropolis presiding over the city from its lofty perch. Experience Greece's epic cuisine, history, culture and shopping with a tour around the tiny switchback streets of the Plaka, the timeworn boulevards of Monastiraki and the kebab stands around Syntagma Square, where you can wash back your lunch with a refreshing Fix beer.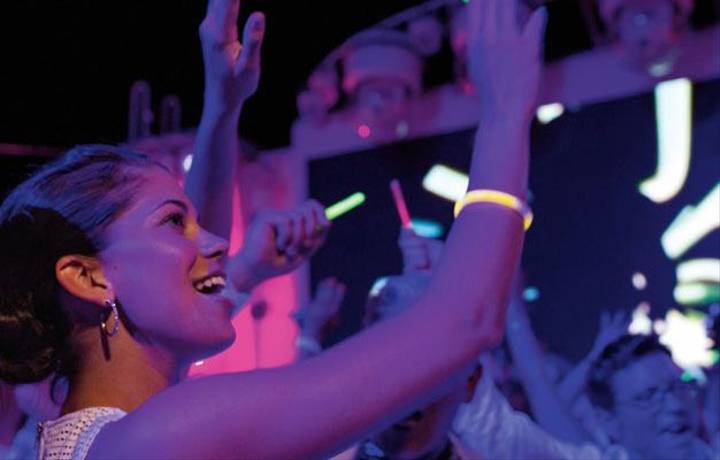 As evening falls, the Norwegian Getaway develops an exciting vibe as music, magic and comedy fill the entertainment lounges and bars. Take your pick between lavish shows, dance spectaculars, brilliant musicians or hilarious comedy acts. And, if all that isn't enough, there's also a dazzling display of fireworks on every cruise.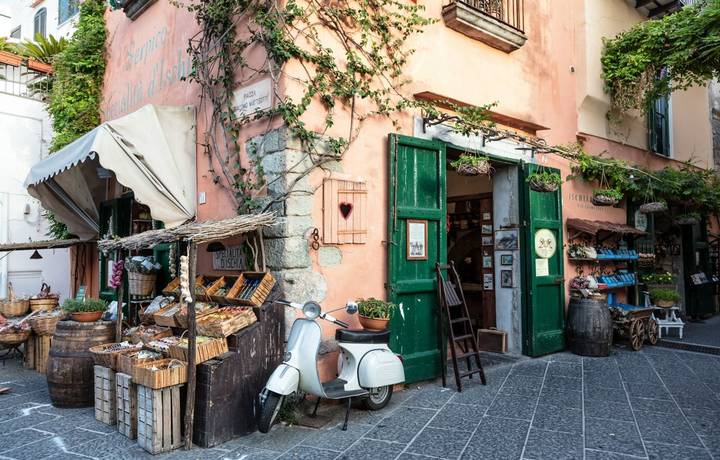 Under the brooding shadow of Mount Vesuvius, Naples sits along the bay, best known for its medieval and Baroque architecture and as the birthplace of pizza. With Pompeii on its doorstep, the eerie ruins make for one of the world's most engrossing archaeological experiences. Take a walk down the well-preserved Roman streets and nosy around the houses, temples, shops and cafes for a historical insight of the previous inhabitants.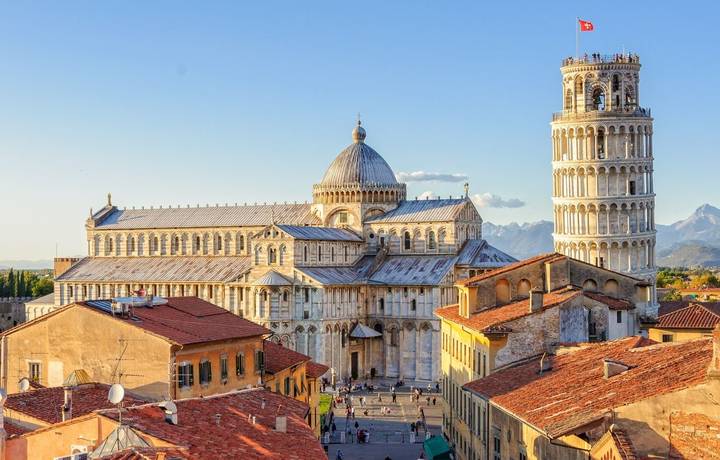 Welcome to Livorno, the gateway to Tuscany. Will you choose to visit the Leaning Tower of Pisa to take your own iconic photograph, or make your way into the countryside to taste full-bodied wines and sample the world-famous Italian cooking in a traditional taverna? Perhaps you'll walk the streets of real-life museum Florence, where Michelangelo's David, Brunelleschi's dome and Ferragamo's iconic shoes are all within easy reach.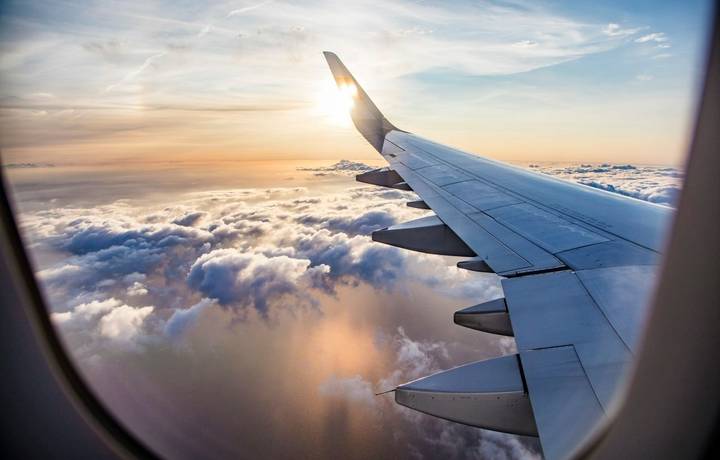 Civitavecchia
- Disembark Norwegian Getaway
Your Baltic and Mediterranean escape complete, today you'll arrive back in Civitavecchia, disembark and transfer to the airport for your flight back home.
Welcome aboard the Norwegian Getaway
For sheer excitement, either in a show lounge, at your restaurant table, or playing on the water slides, there are few ships at sea to match the sensational Norwegian Getaway. Fabulous food from Europe, Asia and the Americas makes the perfect start to a glittering evening, which may include the Tony Award-winning musical, Legally Blonde, or the high-energy dance extravaganza, Burn the Floor. Families travelling with younger passengers will love the splash parks, themed entertainment and dedicated activities for kids of all ages, including the largest rope-walk and fastest water slide at sea. For adults, there's the Vibe beach club, the Waterfront promenade and brilliant sports facilities and organised events.
Entered Service: 2013
Tonnage: 145,655
Number of Decks: 18
Passenger Capacity: 3,929
Total Crew: 1,595
Number of Cabins: 1,994
Wheelchair Accessible Cabins: Yes
Number of Pools: 5
Number of Restaurants: 9
Kids Club: Yes

Entered Service: 2013
Tonnage: 145,655
Number of Decks: 18
Passenger Capacity: 3,929
Total Crew: 1,595
Number of Cabins: 1,994
Wheelchair Accessible Cabins: Yes
Number of Pools: 5
Number of Restaurants: 9
Kids Club: Yes
Welcome aboard the Norwegian Escape
Voted 'Ship of the Year' in 2017, the Norwegian Escape is one of the most exciting ships on the seas. Dine like nowhere else at sea with all the freedom and flexibility of Freestyle Dining and with more than 25 dining experiences and lounges, indulging in every whim is what unforgettable holidays are made of. Spend your days relaxing by the pool or being pampered in the Spa. If you're feeling a little braver, walk The Plank that extends 8 feet over the side of the ship or experience Free Fall - the fastest waterslides at sea.
Entered Service: 15/08/2015
Tonnage: 164,600
Number of Decks: 15
Passenger Capacity: 4,266
Total Crew: 1,733
Number of Cabins: 2,206
Wheelchair Accessible Cabins: Yes
Number of Pools: 3
Number of Restaurants: 14
Kids Club: Yes

Entered Service: 15/08/2015
Tonnage: 164,600
Number of Decks: 15
Passenger Capacity: 4,266
Total Crew: 1,733
Number of Cabins: 2,206
Wheelchair Accessible Cabins: Yes
Number of Pools: 3
Number of Restaurants: 14
Kids Club: Yes
regional flights available at a supplement
Departing
Departing
12 September 2021
Departing
Departing
12 September 2021
Departing
Departing
12 September 2021
Departing
Departing
12 September 2021
Departing
Departing
12 September 2021
CALL TO BOOK:
1800 924 450
HOLIDAY CODE:
MED2442