Italian Lakes Duo & Luxury Croatian Islands Yacht Cruise
Includes a 7 Night Five-Star Luxury Yacht Cruise
Limited Availability | Includes Tours in Lake Maggiore & Lake Como
Get the full experience...
Savour the breathtaking beauty of Lake Maggiore during a three night hotel stay and breathe in the crisp Alpine air of this magical part of Italy. You'll take an unforgettable train journey through Switzerland's Centovalli region, known for its dramatic gorges and cascading waterfalls, enjoying panoramic views along the way. Lake Como, where you'll visit next for another three night stay, is equally stunning and a favourite holiday getaway for A-list celebrities. Here you'll be treated to a journey on the Bernina Express, passing through the Poschiavo Valley on the way to St Moritz. Among the highlights en route is the remarkable Brusio spiral viaduct, a true marvel of railway engineering.
You'll then transfer to the Croatian city of Split for a two night hotel stay. The second largest city in the country after the capital, Dubrovnik, Split is renowned for its picturesque old town. On a guided walking tour you'll discover Diocletian's Palace, a sprawling and well-preserved structure that was the home of a powerful Roman emperor. Other points of interest include St Domnius Cathedral and one of the oldest synagogues in Europe.
Embarking the luxury MS Avantura in Split, settle in for a sensational cruise around the Dalmatian Coast. This intimate boat accommodates just 40 people and is perfect for reaching the smaller destinations of this highly desirable region.
You'll first sail to Hvar, a chic island popular with the jet-set, before ending the day at Vis, known for its vineyards. The next day you'll tour Sibenik, which unlike other cities in the region was founded by Croatians themselves, rather than the Greeks or Romans. Reaching Krka, visit the nearby national park in which you'll find one of Europe's most beautiful waterfalls, Skradinski buk.
At Zadar, head to the waterfront to hear the melodic sounds of the wave-powered sea organ, while at Kornati, the largest group of islands in the Adriatic Sea, you'll want to plunge into the azure waters from the boat's rear platform. You'll also stop at the car-free island of Zlarin, a delight to explore on foot, before disembarking in Trogir, a UNESCO World Heritage Site with Romanesque architecture.
Package Includes
All flights, taxes & transfers
Hotel Stay
3 night four-star hotel stay in Lake Maggiore
3 night four-star hotel stay in Lake Como
2 night four-star hotel stay in Split
Fully Escorted Tours
Scenic rail journey through Centovalli on board the Centovalli Express
Scenic rail journey through the Swiss Alps on board the Bernina Express
Split historic walking tour
Cruise
7 night half-board luxury cruise on board MS Avantura

Daily breakfast and lunch, plus one captain's dinner
Free WI-FI
350 square metre sundeck with luxurious daybeds and a jacquzzi
Walking tours of Split, Hvar, Sibenik & Zadar
Inspiring, dedicated cruise director and expert crew providing impeccable service
At a glance

Prices from
Standard
Price based on 08 Oct 2021 departure
Main Deck Cabin
Price based on 08 Oct 2021 departure
Here to help
Call to book:
1800 924 450
Opening hours:
AWST: Mon to Fri 7am - 5pm | Sat & Sun 7am - 2pm
Lake Como
Europe's deepest lake outside Norway, Lake Como is the jewel of the Lombardy region and a destination popular with A-list celebrities and the well-heeled, many of whom own homes around its shores. Explore lavish villas and romantic gardens in this breathtakingly beautiful region which has been featured in countless movies and pop videos.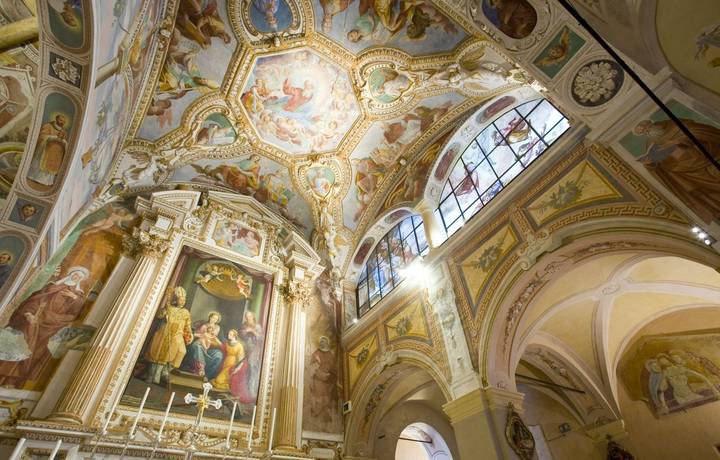 Lake Maggiore
- Hotel Stay
Fly to Lake Maggiore for your three-night hotel stay. Located just south of the Alps, Lake Maggiore is Italy's second largest lake and is characterised by its colourful fishing villages and delicious cuisine. Blessed with a mild climate all year round, the surrounding landscapes burst with a mesmerising array of Mediterranean vegetation and exotic plants while ancient monasteries are filled with vividly painted ceilings and ornate stonework.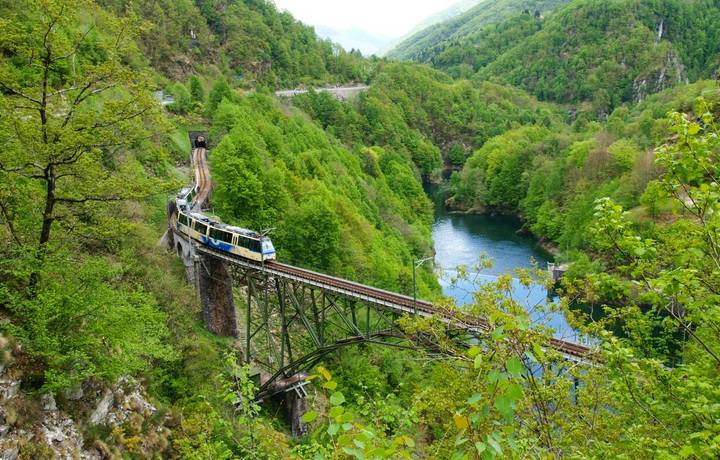 Lake Maggiore
- Hotel Stay & Tour
Today you'll enjoy a picturesque panoramic train journey from Domodossola to Locarno. This unforgettable experience will take you through the stunning Centovalli, "One Hundred Valleys", as you pass by deep gorges and crevices with cascading waterfalls; and venture across colourful alpine meadows, over numerous bridges and through vineyards and forests of chestnut trees. Upon arriving on the Swiss shores of Lake Maggiore, you'll enjoy some time to embrace the atmospheric surroundings and explore the treasures within.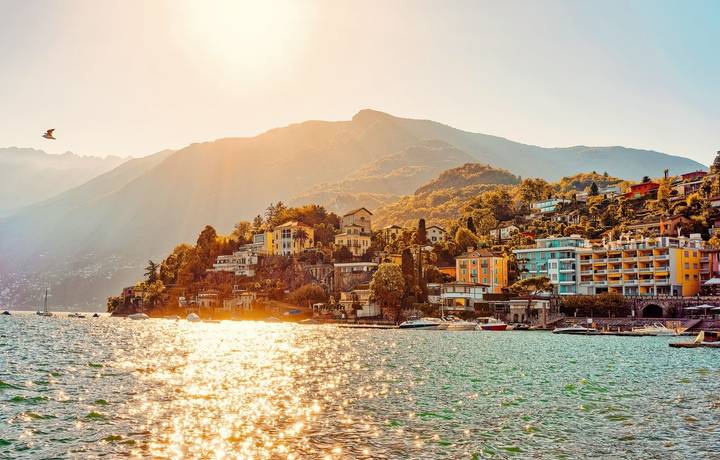 Lake Maggiore
- Hotel Stay
During your final day here, you could pay a visit to one of northern Italy's most spectacularly sited monasteries, the Hermitage of Santa Caterina del Sasso, a Roman Catholic monastery. The beautiful buildings span the 13th and 14th centuries and clasp the high rocky face of Lake Maggiore's southeast shore, providing superb views from the tiny courtyards. Head inside and discover elegant white arches, astounding stained glass windows and a masterpiece of paintings across the alcove ceilings.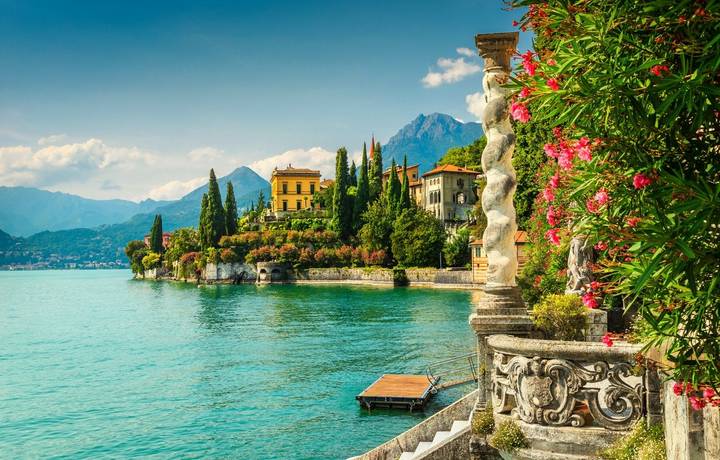 Your next lake stop will be the magnificent Lake Como where you'll enjoy a further three-night hotel stay. Also known as Lario, Lake Como is a lake of glacial origin in Lombardo and is the third-largest lake in Italy. Favoured by many an A-List celebrity, Lake Como is an upscale resort area known for its dramatic scenery – set against the foothills of the Alps - beautiful villages where you can enjoy a coffee alfresco, and extravagant villas. Head to the picturesque village of Varenna for a romantic spot.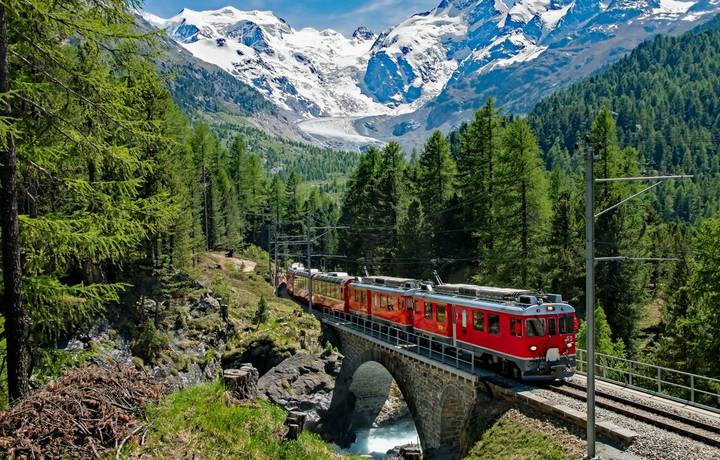 Lake Como
- Hotel Stay & Tour
Today you'll embark the iconic Bernina Express for a train journey to St. Moritz, passing through the Poschiavo Valley and the Engadin. Enjoy incredible sights of majestic mountains and quaint little towns as you trundle over the Brusio spiral viaduct, past Puschlaversee, over Alp Grum and onto the magical Bernia Pass. Before reaching St. Moritz, you'll savour incredible views of Lake Bianco and the snow-clad Morteratsch Glacier.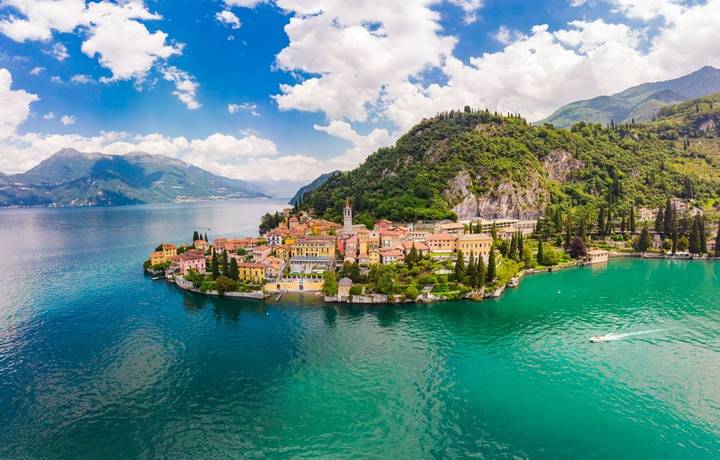 Poised in the shadow of the snow-draped Rhaetian Alps and nestled between steep-wooded hills, the spectacular surroundings of Lake Como welcome you with open arms. Shaped like an upsidedown Y, its meandering shoreline is dotted with ancient villages and exquisite villas. Wander aimlessly along the lake, crossing through gardens, visit the main square and explore the centre's history. Or head to Brunate using the funicular and witness astonishing views of the shore and lake below.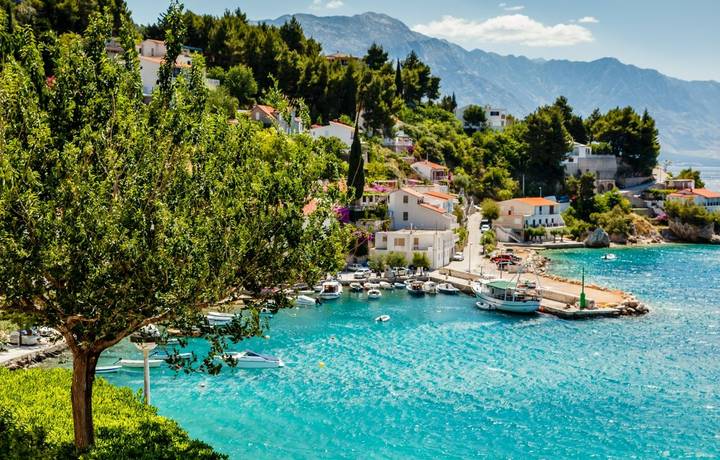 Split is a captivating blend of archaeological treasures and natural beauty. With its spectacular setting – a mountainous backdrop offset by the turquoise waters of the Adriatic Sea – it's no wonder that a powerful Roman emperor once chose to construct a huge palace here. Browse the city's lively open-air markets, head to the popular beach at Bacvice, or wander the paths of verdant Marjan, a favourite recreational spot for the locals and just a few minutes' walk from the centre.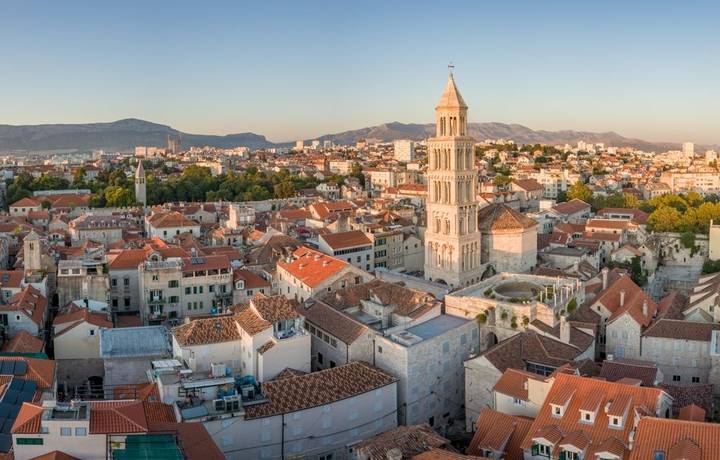 Split
- Hotel Stay & Tour
Today you'll step back in time to the days of the Roman Empire on a fascinating walking tour of Split. The red-roofed Old City is home to a wealth of ancient sites such as the palace of the Roman emperor Diocletian and the Cathedral of St Domnius, the oldest Catholic church in the world that remains in use in its original structure. Accompanied by an experienced local guide, you'll learn about the rich history and legends of this city at the heart of Dalmatia.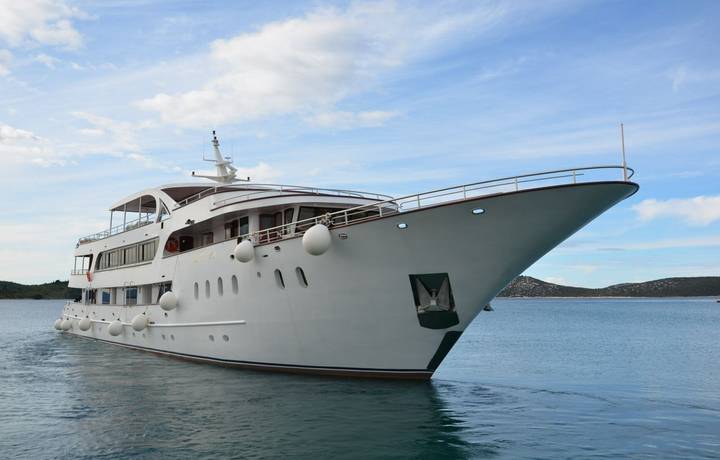 Split
- Embark MS Avantura
MS Avantura offers a relaxed and intimate atmosphere, complete with personalised service and a welcoming crew that are always open to supporting your every need. This beautiful deluxe boat offers well-equipped and comfortable cabins, delectable food and a cosy environment; leaving you free to relax and rejuvenate in intimate surroundings. After settling into your cabin, enjoy your first evening on board with a welcoming dinner to introduce the captain and his crew.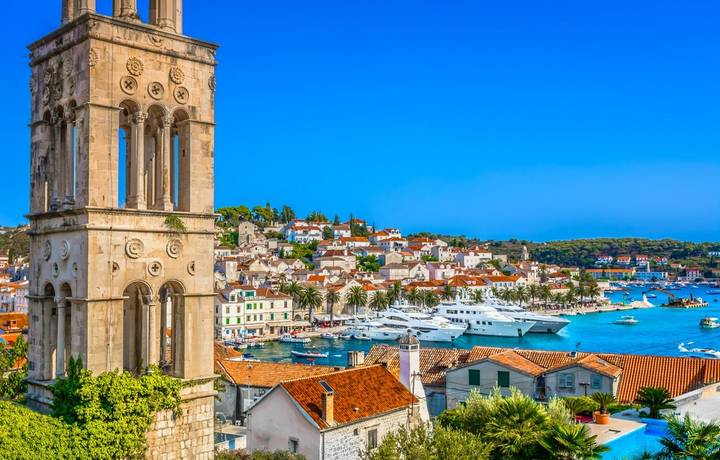 Hvar is known as a chic, jet-set island whose shores are blessed with coves and bays, while inland you'll find rolling fields of lavender, fruit orchards and dense pine forests. In the main town, clustered around the harbour, discover the renaissance cathedral and take a stroll up to the imposing fortress that has loomed over the quaint red-roofed streets for centuries. End the day at Vis, used as a location in the hit movie Mamma Mia! Here We Go Again.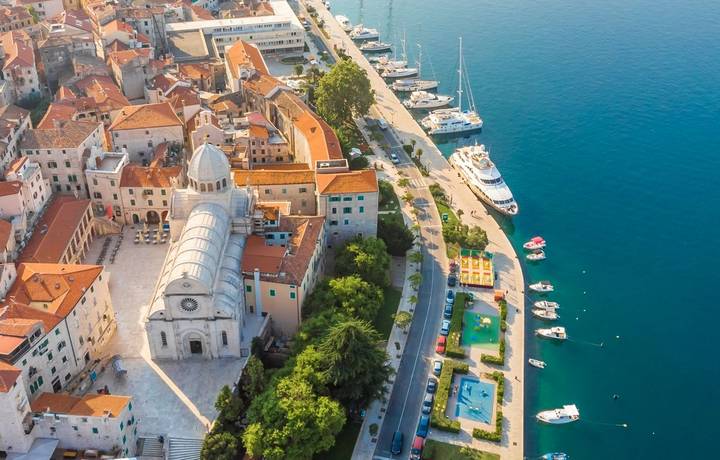 From Vis, sail to Sibenik, Croatia's oldest town and a source of national pride as it wasn't founded by Romans or Greeks but by Croatians themselves. The town's most famous building is the Saint Jacob cathedral, the most important monument of the Renaissance in Croatia. Wander its quaint and beautifully maintained narrow streets, largely unchanged in centuries.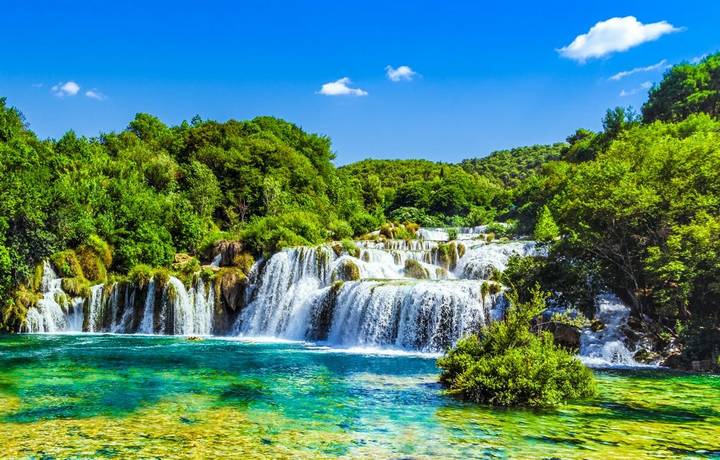 Sibenik
- Krka - Vodice - Zadar
Today you'll get to see one of Croatia's most outstanding areas of natural beauty, the Krka National Park. It's an enchanting destination, filled with gorges, soaring birds of prey and what is arguably Europe's most picturesque waterfall, Kradinski buk – a scene from fairytale. From here you'll make your way to the city of Zadar, once referred to as 'the entertainment centre' of the Adriatic.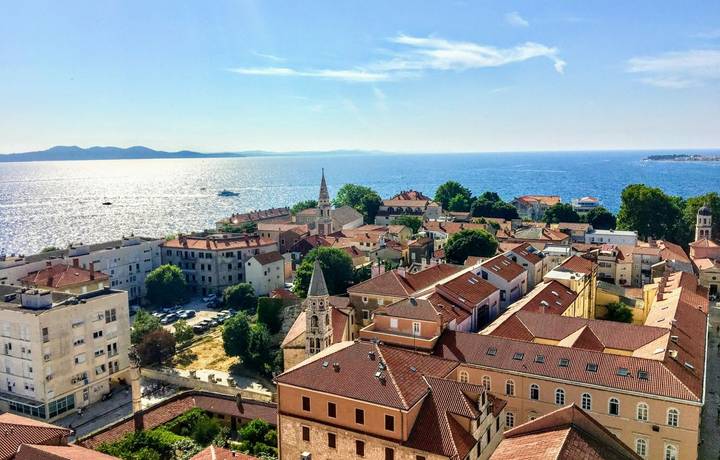 As well as the Roman ruins and Venetian architecture of the old town, head to the waterfront to see one of Zadar's amazing sunsets or dance on the outdoor, solar-powered dancefloor. There's also a wave-powered sea organ – a kind of permanent audio-art installation in the form of large marble steps. While in the Zadar area you'll also visit Sali, a tiny village on the rugged island of Dugi Otok.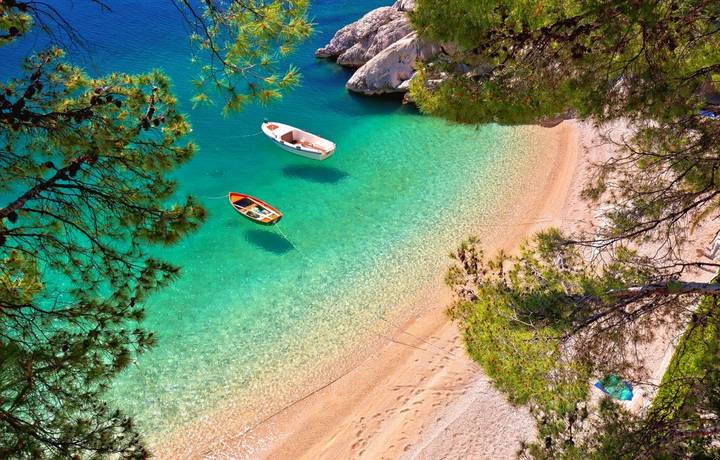 In the morning you'll make your way to Kornati National Park, perhaps enjoying a refreshing swim -stop along the way. The countless reefs and islands here - 'one for every day of the year,' according to local lore – are largely untainted by modernity, making it something of a marine paradise. It's the largest group of islands in the Adriatic Sea.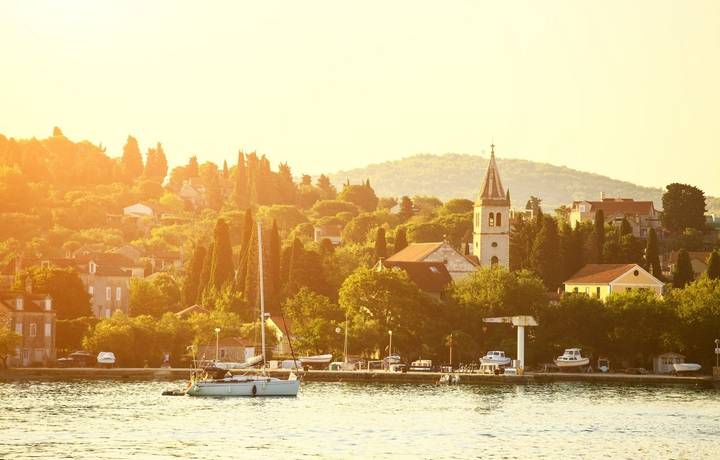 Known as "Golden Island", Zlarin swells with pine trees, cypress forests and olive groves. Spend some time admiring the natural beauty and purity of the island, which has banned motorcars, before heading to Trogir. The Greeks, Romans and Venetians have all left their indelible mark on this town known for its main cathedral, a UNESCO World Heritage Site. It's Romanesque portal at the entrance is an intricately carved masterpiece by local sculptor and architect Radovan.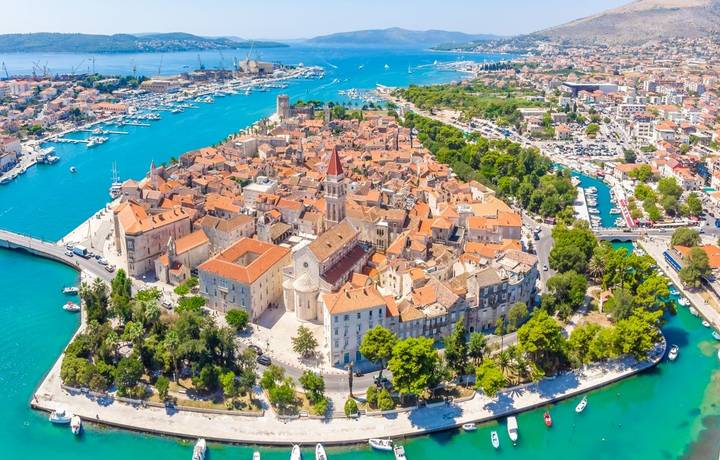 Trogir
- Disembark MS Avantura
Today you'll disembark MS Avantura in Trogir and fly home.
Welcome aboard the MS Avantura
Expair boats offer personalised service with a welcoming crew, always open to your every need. Well-equipped and comfortable cabins, excellent food in a cosy atmosphere. The size of their boats allows each passenger to have some intimacy while it also creates a cosy and family-like environment. The fleet is made up of recently built boats to guarantee an unforgettable journey across the Adriatic Islands. Spend some time with your fellow travellers in one of the shared spaces and gaze upon the passing landscapes and you cruise through the shimmering waters or head up to the sun terrace with your favourite book for some 'me time.' However, you choose to spend your time on board, the friendly and attentive crew will ensure all your needs are met, for the best time at sea.
Entered Service: April 2019
Number of Decks: 3
Passenger Capacity: 40
Total Crew: 6-8
Number of Cabins: 19
Wheelchair Accessible Cabins: No
Number of Pools: 1
Dining Room: 1

Entered Service: April 2019
Number of Decks: 3
Passenger Capacity: 40
Total Crew: 6-8
Number of Cabins: 19
Wheelchair Accessible Cabins: No
Number of Pools: 1
Dining Room: 1
regional flights available at a supplement
CALL TO BOOK:
1800 924 450
HOLIDAY CODE:
MED2444