Luxury Cunard New Zealand Voyage & Melbourne Escape
Exclusive to Imagine Holidays
FREE Flights & Hotel Stay | 14 Day Sale - Ends 24.09.2020
Get the full experience...
Begin your holiday in Melbourne, Victoria's culturally vibrant state capital and a city that's a delight to explore on foot. Here you'll find a feast of orderly Victorian arcades full of independent shops and quirky cafes, plus plenty of eye-catching street art and sporting landmarks galore.
From here, you'll embark the magnificent Queen Elizabeth for an unforgettable voyage to some of New Zealand's coastal highlights. As you cross the Tasman Sea, immerse yourself in the elegant Art Deco furnishings, luxurious accommodation and refined atmosphere. By the time you're settled in you'll be met with the welcoming sight of New Zealand's awe-inspiring Fiordland National Park. Featuring sheer cliffs veined with waterfalls and dense forests edging onto mirror-smooth waters, it's a Lost World wonderland that affords plenty of picture-taking opportunities.
You'll also stop at the Scottish-flavoured city of Dunedin which is home to the mock-Gothic Lanarch Castle, as well as the enchanting Dunedin Chinese Garden, complete with ornate pagodas.
Christchurch, the country's second most populous city, is your next destination and is best known for its 1930s outdoor shopping mall, a charming tram system and an urban park through which the Avon River flows. For the best views, take the Christchurch Gondola, a scenic cable-car ride.
You'll then sail to New Zealand's pint-sized capital city, Wellington, home of the country's film industry and awash with handsome Victorian architecture. Pay a visit to one of several excellent museums and art galleries and sample some of the acclaimed craft beers found in its friendly bars and pubs.
Reaching Picton, you'll discover a destination surrounded by beautiful views and picturesque secluded bays. Venture out and explore the allure of Queen Charlotte Sound on a kayak or head out on a boat around the harbour to enjoy close encounters with dolphins.
Before returning to Melbourne where you'll disembark, explore the many attractions of Auckland, often listed as one of the world's most liveable cities, and drink in the bewitching views of sparkling waters and unspoilt beaches in the Bay of Islands.
Package Includes
FREE flights & taxes
FREE Hotel Stay
FREE 1 night four-star hotel stay in Melbourne with breakfast
Cruise
13 night cruise on board Queen Elizabeth with all meals and entertainment

Watch dazzling West End style productions in the Royal Court Theatre

Indulge in delicious afternoon tea served by white-gloved waiters

Visit the stylish Gin & Fizz bar to savour one of the premium gins or your favourite glass of bubbles
At a glance

Prices from
Inside
Price based on 13 Feb 2022 departure
Outside
Price based on 13 Feb 2022 departure
Balcony
Price based on 13 Feb 2022 departure
Grill Suite
Price based on 13 Feb 2022 departure
Here to help
Call to book:
1800 924 450
Opening hours:
AWST: Mon to Fri 7am - 5pm | Sat & Sun 7am - 2pm
CUNARD
No other shipping line radiates the maritime elegance and illustrious heritage of Cunard. From the moment you step aboard one of its ships, you'll be struck by the exquisite attention to detail. Polished brass fittings, Art Décor interiors and white-gloved waiters – all this and more creates the ambience of a bygone age. And with a high staff-to-passenger ratio, you'll find yourself well attended to, from morning till night.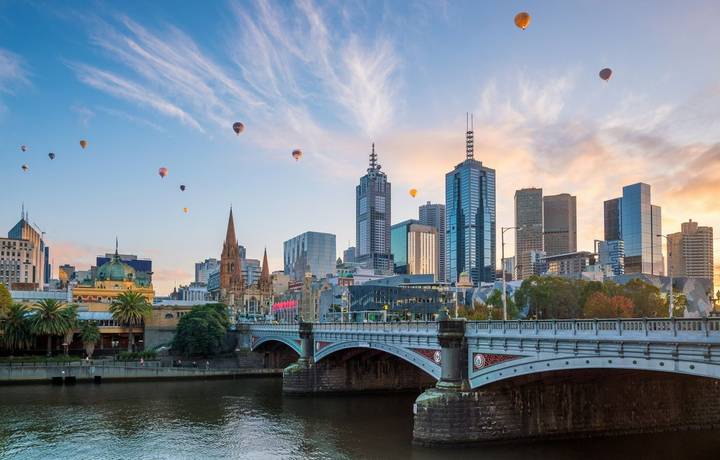 Melbourne, Australia's most populous city after Sydney, is famous for its markets, where you'll find everything from local produce to arts and crafts and vintage fashion. The inner city's leafy areas have a European feel, alongside New York-style 1950s art deco high-rises. The National Gallery of Victoria is the country's oldest and largest public art museum, but you don't need to go far to see art in this vibrant city because its streets, arcades and bustling laneways are full of it.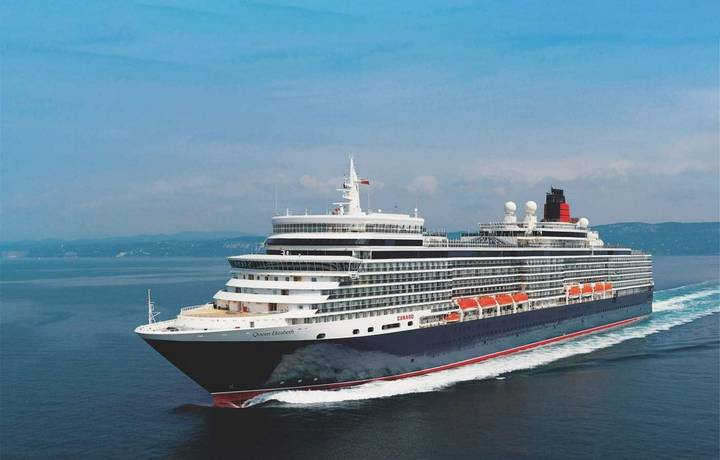 Melbourne
- Embark Queen Elizabeth
Today you'll embark Queen Elizabeth, a ship that emulates Cunard's refined approach to sailing. Decked out in an art deco style throughout, it evokes a 1930s elegance, with a croquet lawn on the games deck and gleaming chandeliers fit for a state ballroom. You could dance the night away at a athemed ball in the Queens Room, enjoy afternoon tea served by white-gloved waiters or watch a polished production in the Royal Court Theatre. You'll have three main gourmet restaurants to choose from, promising gastronomic delights to suit all tastes.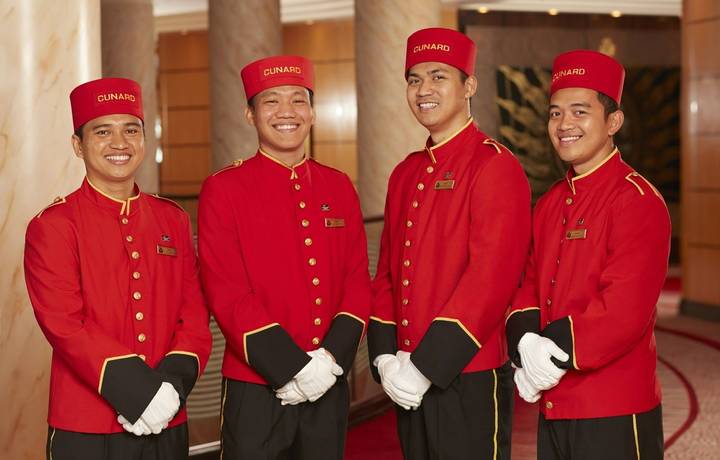 DAY 3 - 4
| 15 - 16 Feb 2022
Cunard prides itself on standards of service that go above and beyond, exceeding the expectations of their guests. From the warm smile that welcomes you on board, to round the clock room service and the white-gloved hand that serves traditional afternoon tea. Cunard's White Star Service is the attention to the finest detail.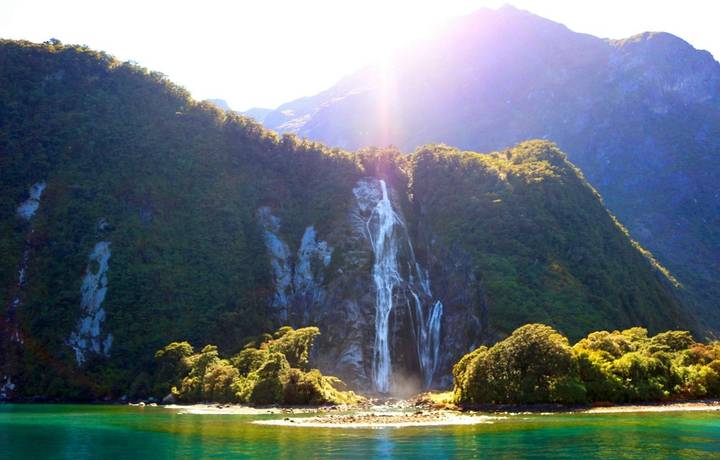 Fiordland National Park (Scenic Cruising)
Sail away into a dreamlike world as today you'll cruise through Fiordland National Park, a nature haven where glacier-cut mountains and mirror-smooth lakes emanate serenity. In this important bird habitat, you could spot a Fiordland penguin or two as you sail past breathtaking scenery. Watch waterfalls cascade down craggy cliffs, wispy clouds caress mountain peaks and maybe, if you're lucky, dolphin fins crest glassy water.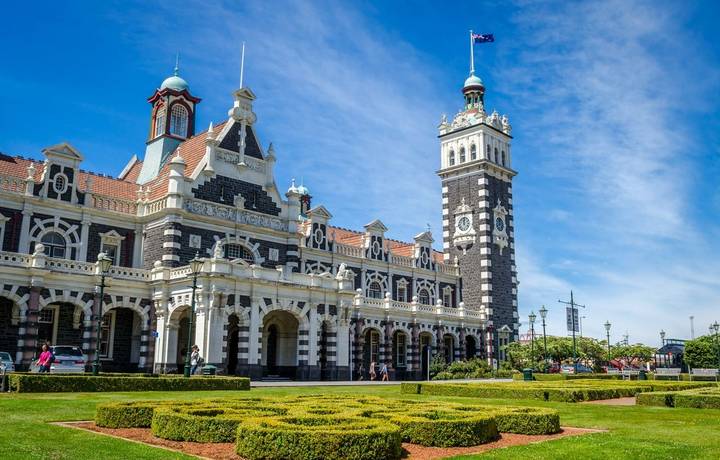 Once a Scottish settlement, Dunedin retains strong links to Scotland even today and has its own tartan. Lanarch Castle, built by a nineteenth century local businessmen with Scottish roots, is billed as New Zealand's only castle and the building and its gardens are now open to the public. With quaint harbourside villages, endless green hills and low-rise buildings, Dunedin has a laidback, understated atmosphere.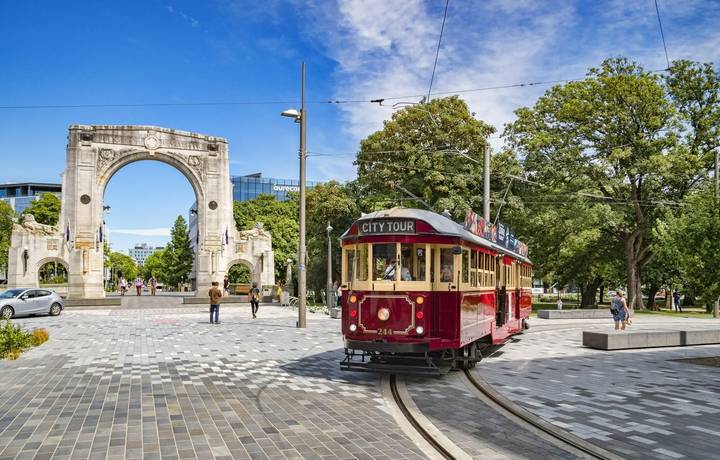 Although it's the largest city in New Zealand's South Island, Christchurch is still small enough to be explored on foot. Perhaps the best way of seeing this compact city is on the hop-on, hop-off tram. There are 17 stops, which include punting on the River Avon, which runs through the heart of the city. However, to really soak up the spectacular surroundings of the city, take the Christchurch Gondola - a scenic cable-car ride.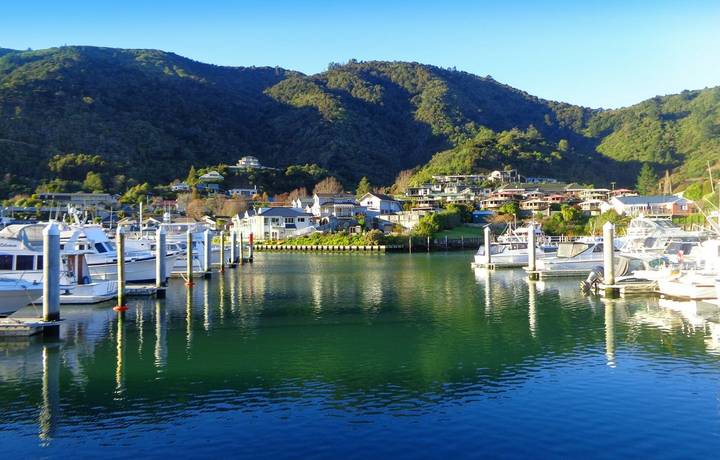 Picton harbour is surrounded by beautiful views, palm tree lined promenades and native bush wildlife. The stunning Marlborough Sounds area can be accessed by boats and offers fishing trips and picturesque secluded bays. Queen Charlotte Sound is ideal for water sports including kayaking, diving, hiking, cycling, fishing or just taking a scenic trip and admiring some of New Zealand's most incredible natural areas. A boat trip around the picturesque harbour offers the opportunity to swim with dolphins.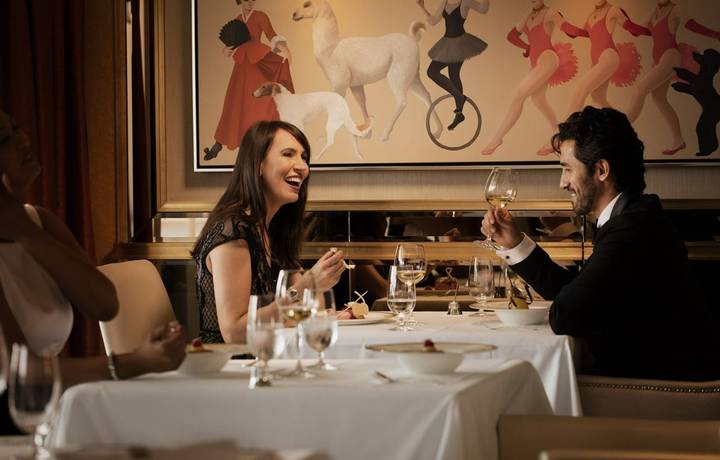 Dining on board Queen Elizabeth is heralded as some of the very best at sea. Alongside Cunard favourites like the Britannia Restaurant, for a small supplement you can enjoy themed dining experiences like Lotus for delicious Asian cuisine or Smokehouse which offers an American –influenced menu.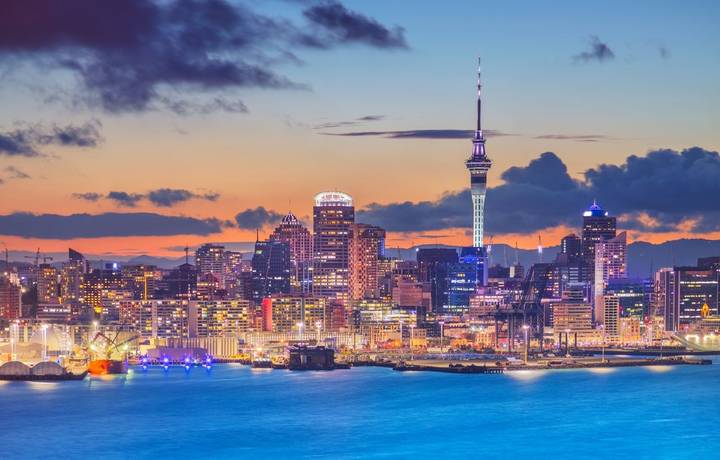 The lush greenery of Auckland's rolling hills are punctuated by the eyewatering skyline of the city's centre, offering the fascinating contrasts of modern architecture meets natural landscape. Escape to Mount Eden where you'll find the volcanic crater of Maungawhau and savour beguiling views across the city and both harbours, climb One Tree Hill for panoramic views and explore the surrounding Cornwall Park, or pay a visit to the imposing Auckland Museum, a neoclassical temple that dominates the city skyline.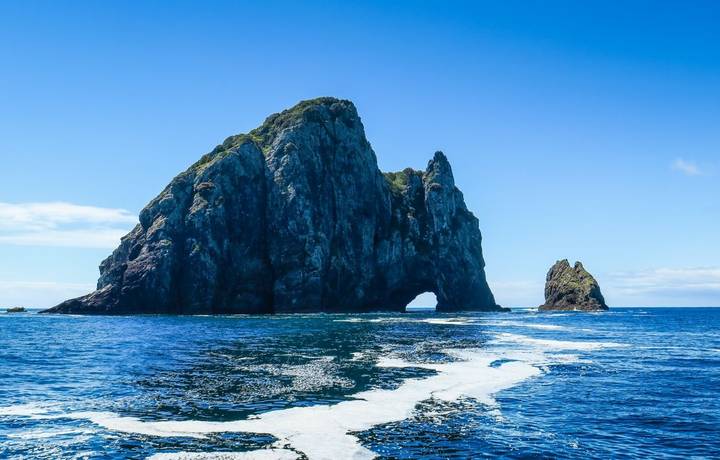 This beguiling bay is one of New Zealand's most popular destinations and with its sparkling waters peppered with paradise islands and unspoilt beaches, it's not hard to see why. Spend some time on one of the beaches, head out on a boat trip to enjoy close encounters with dolphins and whales or relish an excursion to the famous Hole in the Rock. Rising 148 metres out of the ocean, it's an enclave rich in sheer cliffs, lush greenery and has a 16m-high hole that large enough for you to cruise through on a calm day.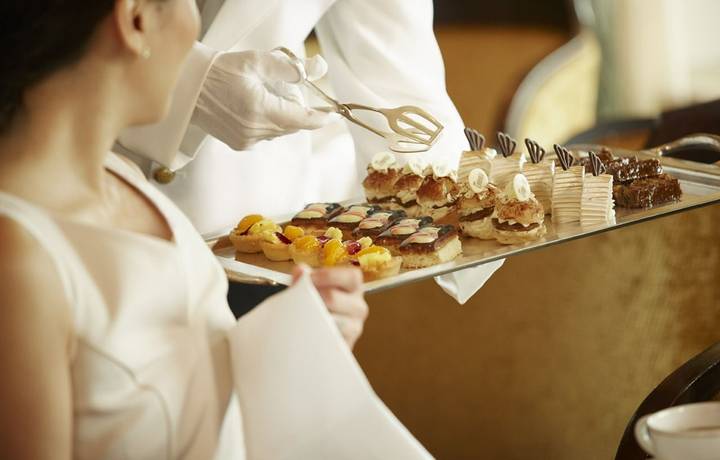 DAY 12 - 14
| 24 - 26 Feb 2022
In keeping with Cunard's luxurious and refined service you can also enjoy daily traditional afternoon tea served by white-gloved waiters in the magnificent Queens Room. Savour the ambience of your elegant surroundings and indulge in an array of finger sandwiches, scones and pastries, paired with Twinings teas and accompanied by the gentle strains of the live orchestra.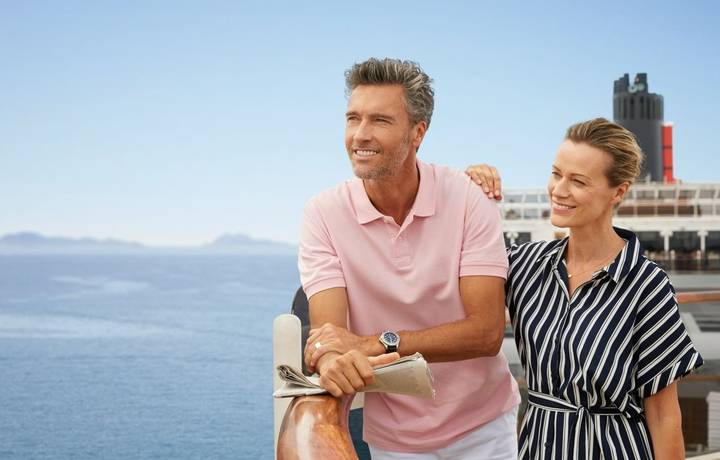 Melbourne
- Disembark Queen Elizabeth & Fly Home
Cruise complete, today you'll disembark back in Melbourne and make your way to the airport for your flight home.
Welcome aboard the Queen Elizabeth
When Her Majesty the Queen conducted the naming ceremony in her own honour in October 2010, she continued a marvellously regal formal cruising tradition. Cunard has maintained all the refined styling, amenities and service associated with the Golden Era of cruise sailing and added modern facilities, leisure and entertainment opportunities. Stunning accommodation and the most exceptional fine dining you'll ever experience at sea are highlights of the glorious Queen Elizabeth cruise ship. Dance in the grand ballroom, enjoy afternoon tea served by white-gloved waiters, watch extravagant stage shows in opulent theatre surroundings or simply relax and revitalise beside one of the two lovely pool areas.
Entered service: 2010
Tonnage: 90,900
Number of Decks: 12
Passenger Capacity: 2,092
Total Crew: 1,020
Number of Cabins: 1,046
Wheelchair Accessible Cabins: Yes
Number of Pools: 3
Number of Restaurants: 3
Kids Club: Yes
Entered service: 2010
Tonnage: 90,900
Number of Decks: 12
Passenger Capacity: 2,092
Total Crew: 1,020
Number of Cabins: 1,046
Wheelchair Accessible Cabins: Yes
Number of Pools: 3
Number of Restaurants: 3
Kids Club: Yes
regional flights available at a supplement
Departing
Departing
13 February 2022
Departing
Departing
13 February 2022
Departing
Departing
13 February 2022
Departing
Departing
13 February 2022
CALL TO BOOK:
1800 924 450
HOLIDAY CODE:
CRU2274