A discovery of Norway and Alaska on board Cunard's iconic trio of Queens
Fully Escorted Tours & Hotel Stays in Vancouver, London & New York
Get the full experience...
All flights, taxes & transfers
2 night hotel stay at the Crowne Plaza London - Kings Cross with breakfast
7 night cruise of the Norwegian Fjords on board Queen Victoria
3 night stay at the Apex City of Bath Hotel with breakfast
Fully escorted Royal Tour visiting Hampton Court Palace and Windsor Castle
---
7 night Transatlantic cruise on board Queen Mary 2
3 night 5-star hotel stay at The Mamara Park Avenue in New York
3 night hotel stay at the Vancouver Marriott Pinnacle Downtown Hotel
10 night Alaskan cruise on board Queen Elizabeth
All meals & entertainment whilst on board
Hero image is intended for illustrative purposes only.
At a glance

Prices from
Inside
Price based on 28 May 2021 departure
Outside
Price based on 28 May 2021 departure
Balcony
Price based on 28 May 2021 departure
Grill Suite
Price based on 28 May 2021 departure
Here to help
Call to book:
1800 924 450
Opening hours:
AWST: Mon to Fri 7am - 5pm | Sat & Sun 7am - 2pm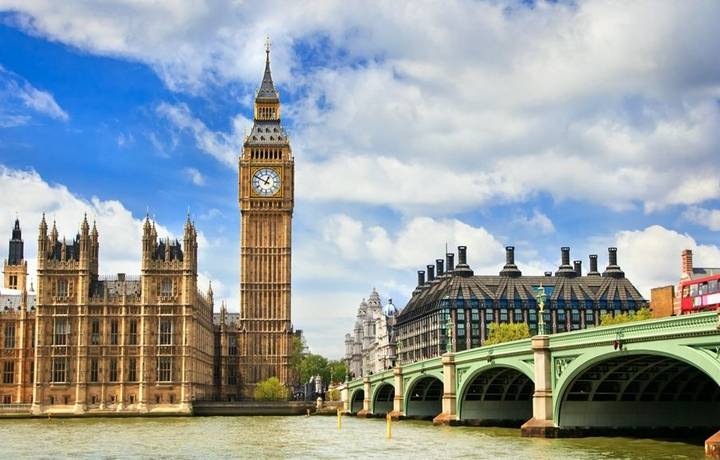 DAY 1 - 2
| 28 - 29 May 2021
London - Hotel Stay
Fly to London and enjoy two nights in this iconic city. Pay a visit to Buckingham Palace, home of Queen Elizabeth and witness the changing of the guards, board the London Eye and take in the beautiful, panoramic views or, stop by London's iconic national timepiece, Big Ben.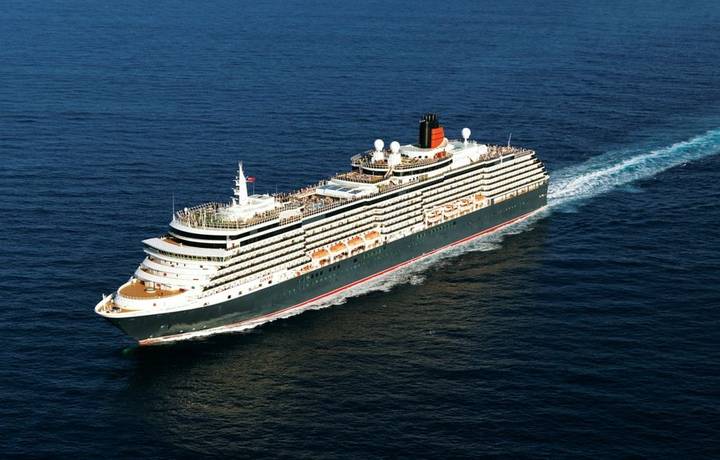 Southampton
- Embark Queen Victoria
Southampton - Embark Queen Victoria
Today you'll venture to Southampton to embark upon your transatlantic cruise. Queen Victoria is a ship designed with all the modern conveniences but with the splendour evocative of great ocean liners past. From her plush, elegantly decorated public rooms to her gourmet dining and luxurious cabins, Queen Victoria exudes class.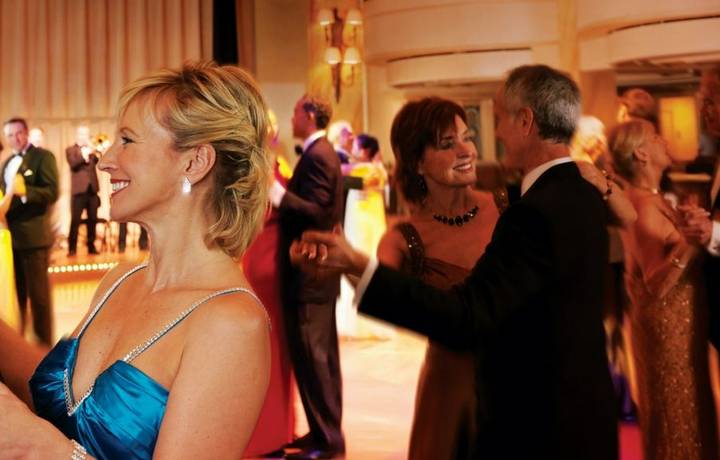 At Sea
Indulge in the sumptuous spa, experience Cunard's luxurious and refined service at afternoon tea served by white-gloved waiters, catch a show in the Royal Court Theatre or dance the night away in the magnificent surroundings of the Queens Ballroom – it's all up to you.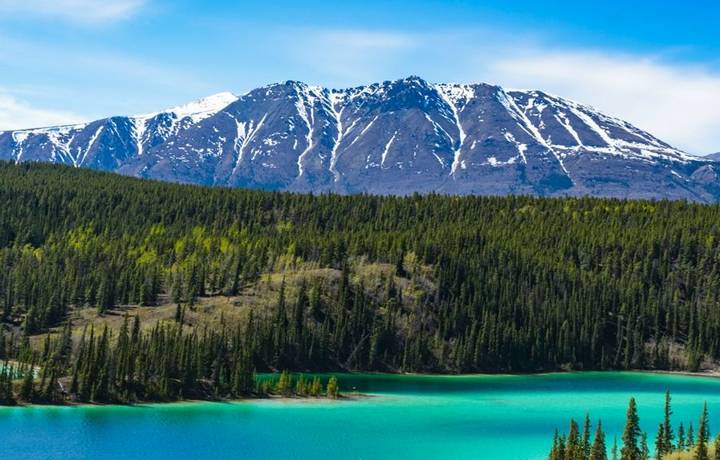 Stavanger
Stavanger is a historical city filled with natural beauty and amazing sights. Visit the Utstein Abbey located in the little island of Klostero, a beautiful 13th century Augustinian monastery. Take a trip to Lysefjord where you can see the Pulpit Rock which is a 1,968 feet high mountain that overlooks the scenic fjord and surrounded by deep green waters and stunning landscape. In the heart of Stavanger is this city's oldest cathedral.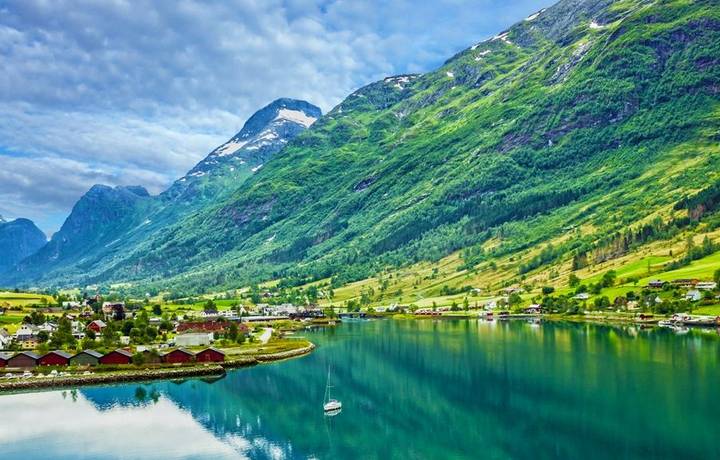 Olden
This small picturesque village is the gateway to Norway's glaciers. Surrounded by snow-capped mountains, thundering waterfalls and the green-tinged Kjenndalen Glacier that feed into its mineral rich lake, you'll be enchanted by Olden's natural beauty, spectacular scenery and warm welcome.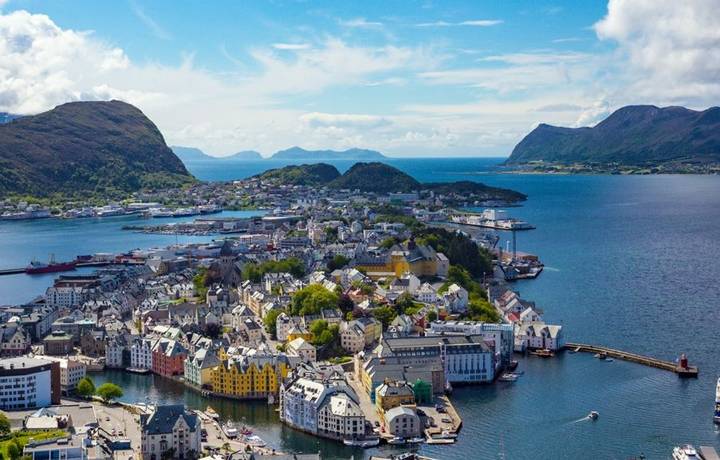 Alesund
Located amidst the fjords and mountains and peppered with Art Nouveau architecture and fairytale turrets, it's no surprise that Alesund is frequently considered one of the most beautiful cities in Norway. As well as its outstanding natural beauty, the city is the cultural epicentre of the region and host to many worldwide festivals.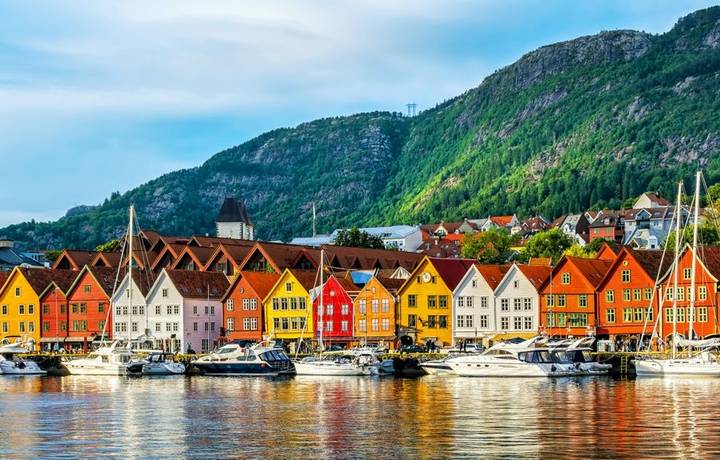 Bergen
There are few places in Norway more beautiful than Bergen, with its classic bright, wooden houses that line the harbour. One of the many delights this town offers is travelling up the funicular to capture the perfect panorama of the town and harbour. Whether you are checking out museums or enjoying a walk through the bustling markets, you'll discover the quaint charm of Bergen.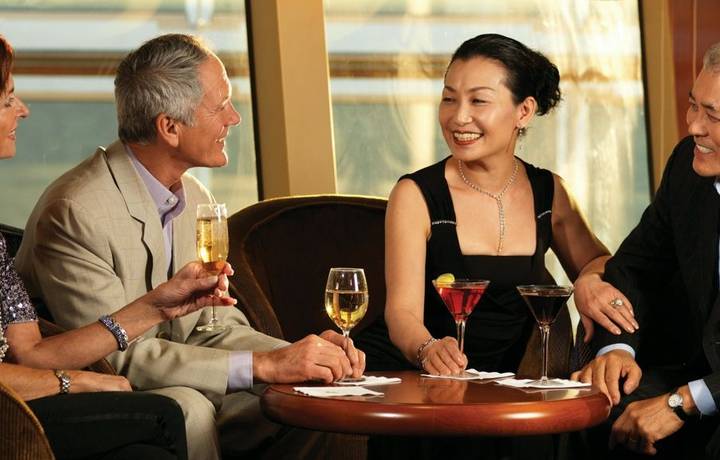 At Sea
Queen Victoria offers an array of elegant bars and lounges to suit every mood – during the day, sip coffee and nibble on croissants in Café Carinthia; enjoy pre-dinner drinks in the Chart Room; toast friends in the Champagne Bar; and dance the night away in Hemispheres.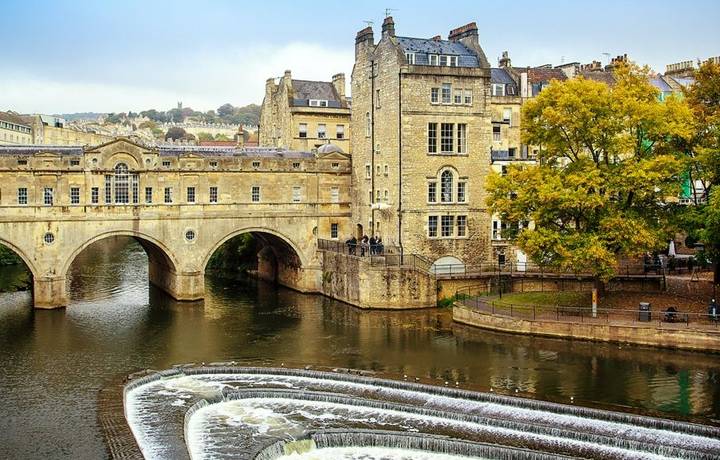 Southampton
- Disembark and Hotel Stay
Southampton - Disembark Queen Victoria and Bath Hotel Stay
Arriving back in Southampton, you'll bid farewell to the wonderful Queen Victoria and transfer to Bath for a hotel stay. The Georgian city has been attracting visitors since Roman times due to its natural thermal hot springs. Visit the Royal Crescent and admire some of Britain's grandest Georgian buildings, discover the life of much-loved author, Jane Austen in a centre dedicated to her, or enjoy the city's vibrant cafes, bars and restaurants.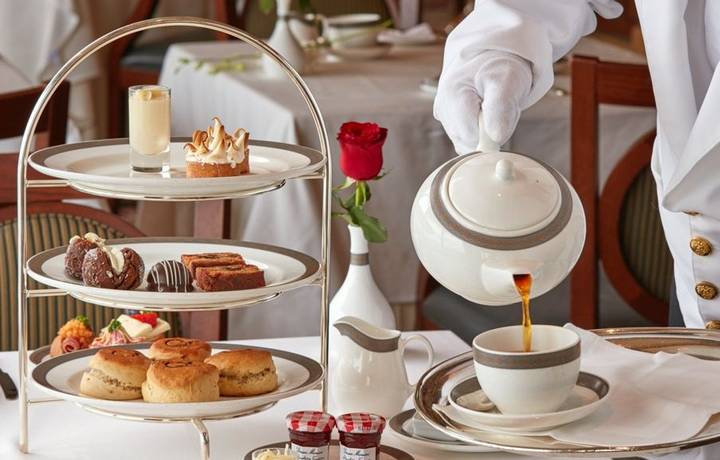 Bath
- Hotel Stay and Tour
Bath - Hotel Stay and Tour
Fully rested, today you'll embark on a full day tour exploring spectacular palaces, indulging in traditional afternoon tea, admiring exquisite gardens and marvelling at the Queen's favourite weekend retreat. Begin your day with a half day guided tour of Hampton Court Palace, the oldest Tudor Palace in England with its many attractions of the Tudor kitchens, tennis courts, a maze, state apartments and the King's apartments. Following a delicious afternoon tea at the Harte and Garter hotel, you'll pay a visit to royal residence, Windsor Castle. Home to St George's Chapel, venue for the Royal Wedding of Prince Harry and Meghan Markle.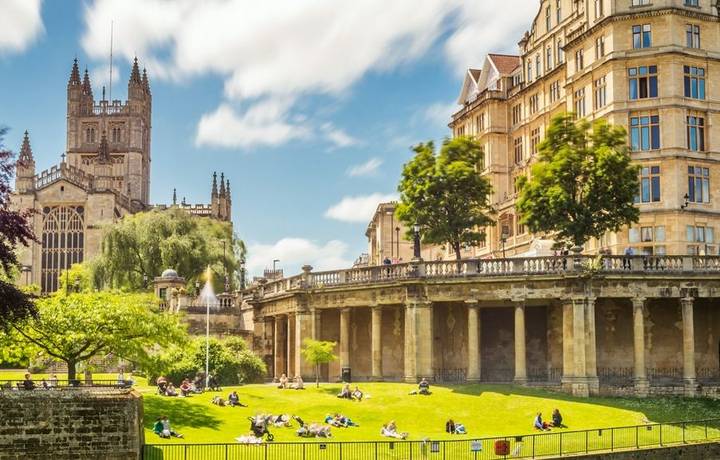 Bath - Hotel Stay
Another day is yours to discover the hidden treasures within this fabulous city. Treat yourself to a spot of shopping from the wide range of high street shops, head to the Thermae Bath Spa for a treatment or two ahead of your cruise, or feed your appetite from one of the many eatery options that line the streets.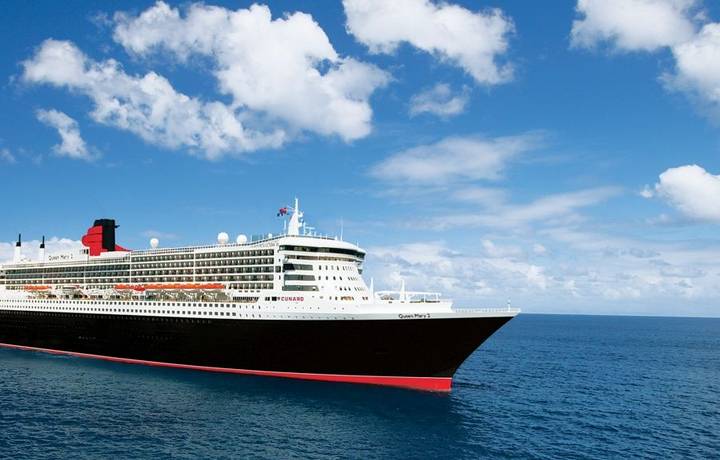 Southampton
- Embark Queen Mary 2
Southampton - Embark Queen Mary 2
Your second Cunard cruise will commence in Southampton where you'll board the majestic Queen Mary 2. A spectacular ship whose very essence, from grand design to final flourishes, harks back to the grand old ocean liners of the golden age of travel - there's simply no more fitting way to cross the Atlantic on your seven-day voyage to New York.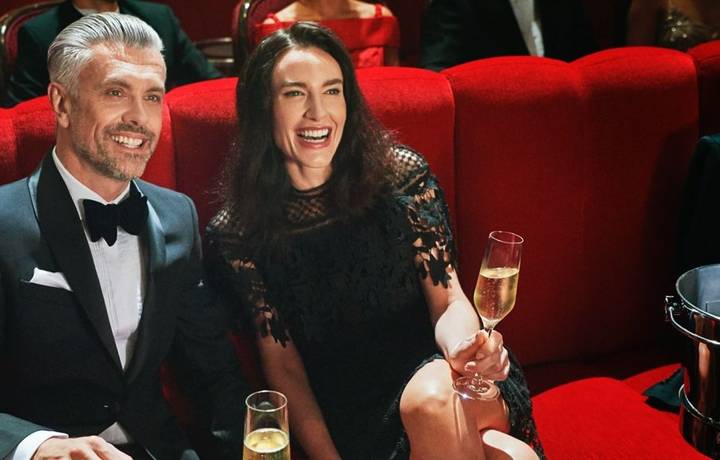 DAY 14 - 19
| 10 - 15 Jun 2021
At Sea
Queen Mary 2 is one of the most luxurious liners at sea. Find world-class entertainment, sumptuous cuisine, an on board planetarium, as well as the Canyon Ranch SpaClub and famous speakers from the arts and beyond to entertain you on your voyage.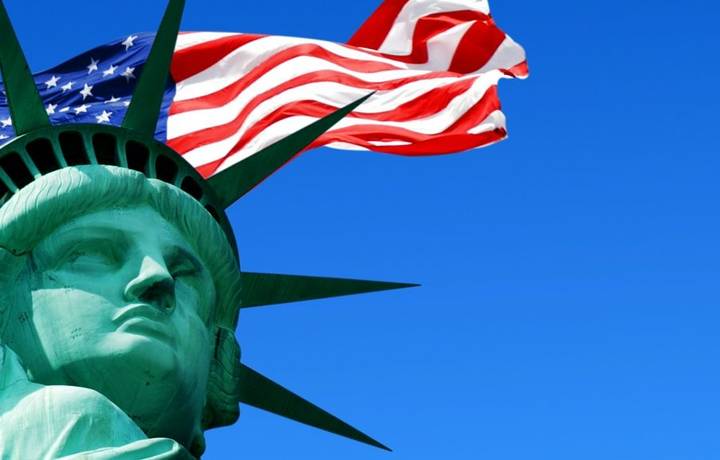 New York
- Disembark Ship and Hotel Stay
New York - Disembark Queen Mary 2 and Hotel Stay
Imagine waking up to the most iconic skyline laid out in front of you: the arm of the Statue of Liberty aloft and the tip of the Empire State Building grazing the clouds. This view could be yours, reaching New York as the dawn breaks over one of the world's most exciting cities before you disembark.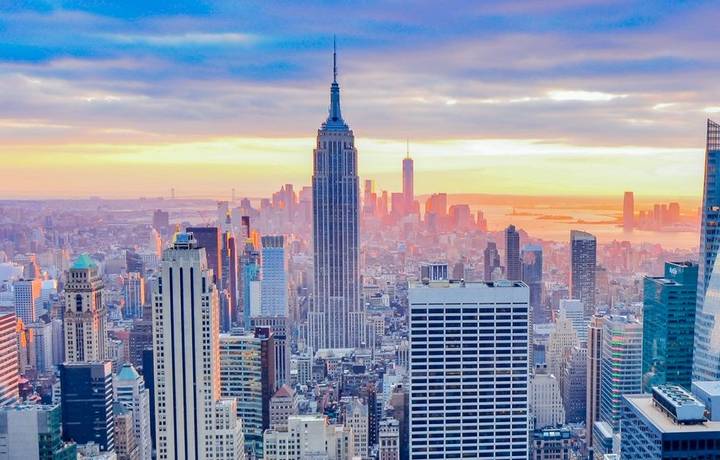 DAY 21 - 22
| 17 - 18 Jun 2021
New York - Hotel Stay
With icons from popular culture at every turn, New York is the perfect place to enjoy an activity packed break. From the Statue of Liberty and the neon lights of Broadway to Fifth Avenue's Museum Mile and Central Park's peaceful walkways; the Big Apple is awash with things to see and do. Whether you're here for shopping, food, culture or entertainment, we guarantee you won't be disappointed by this much talked about city.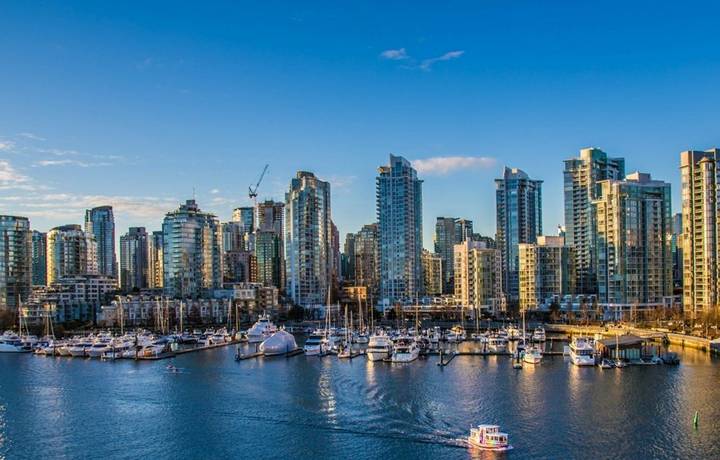 Vancouver - Hotel Stay
Fly to Vancouver and enjoy a three night hotel stay. This fantastic destination has stunning scenery that offers plenty of opportunities to see wildlife but this easy-going city has many urban attractions too, including an exciting arts culture and some of Canada's best culinary experiences.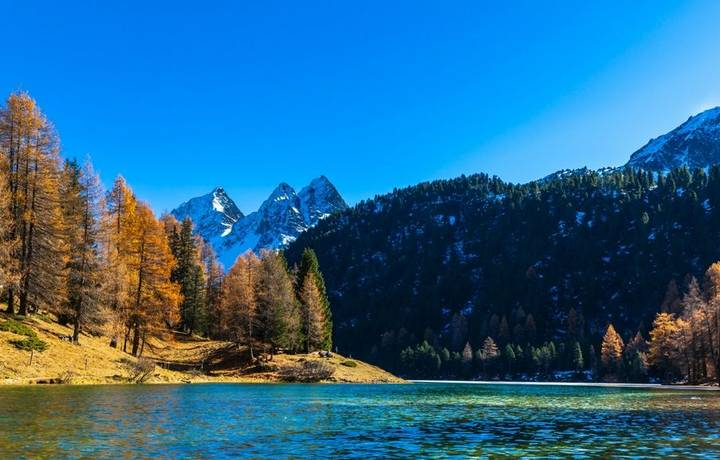 Vancouver - Hotel Stay
Vancouver provides stunning scenery to discover with endless outdoor activities all year-round. Have breakfast with a grizzly bear at Grouse Mountain or appreciate nature from the thrilling +Park, a 400-hectare oasis in the middle of the city with scenic mountain and ocean views.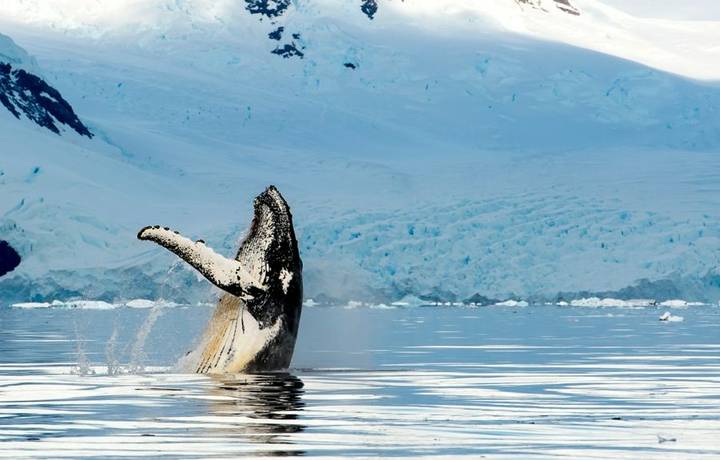 Vancouver - Hotel Stay
Caught between the sparkling ocean and majestic mountains, Vancouver is one of the most beautiful cities in the world. Its stunning scenery offers fantastic opportunities to see wildlife, from whale-watching around the Gulf Islands to spotting bears on Grouse Mountain but this easy-going city has many urban attractions too, including an exciting arts culture and some of Canada's best culinary experiences.
Vancouver
- Embark Queen Elizabeth
Vancouver - Embark Queen Elizabeth
Embark the regal Queen Elizabeth, one of the finest cruise liners sailing the five oceans and a ship that offers a little of the finer things in life to all passengers who sail with her. Enjoy Cunard's spectacular heritage, sense of occasion and huge array of activities, including ballroom-dancing, lawn bowls and afternoon tea in the Garden Lounge.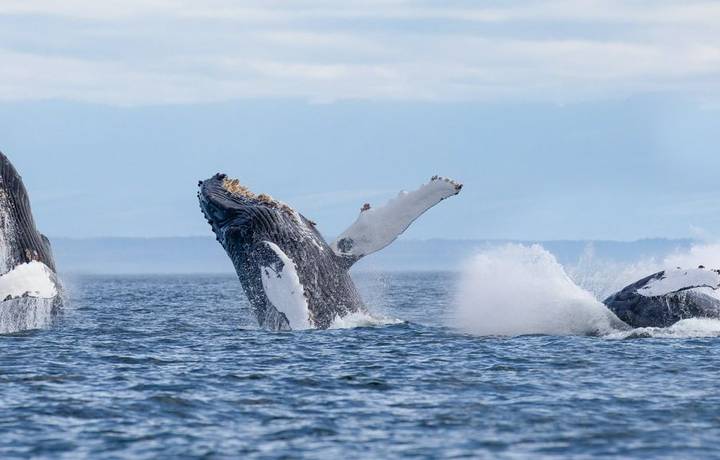 Inside Passage (Scenic Cruising)
Inside Passage (Scenic Cruising)
Cruising is wonderful way to experience Alaska's snowy peaks and shimmering icy waters and today you'll get your first glimpses of this region's beautiful scenery as you weave your way through the islands of Alaska's Inside Passage. Its temperate rainforests, glaciers, fjords and mountains are home to an incredible range of wildlife including bald eagles, sea lions, porpoises and whales.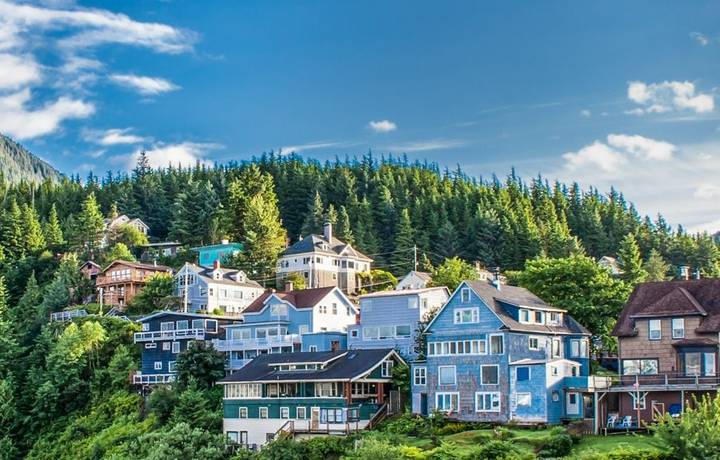 Ketchikan
Ketchikan is a town which provides you with beauty, history, culture and a truly Native Alaskan experience. Visit Deer Mountain Tribal Hatchery and Eagle Centre, where you can view thousands of salmon, observation platforms and meet the eagles. Visit Saxman Totem Park to see 26 beautifully sculpted multi-coloured totems, a tribal house where you can watch dance performances and a carving venture. Misty Fjords National Monument is an Alaskan natural wonder only accessible by boat or plane. You can see boasting towering mountaintops, rushing waterfalls, fjords, glaciers and beautiful lakes.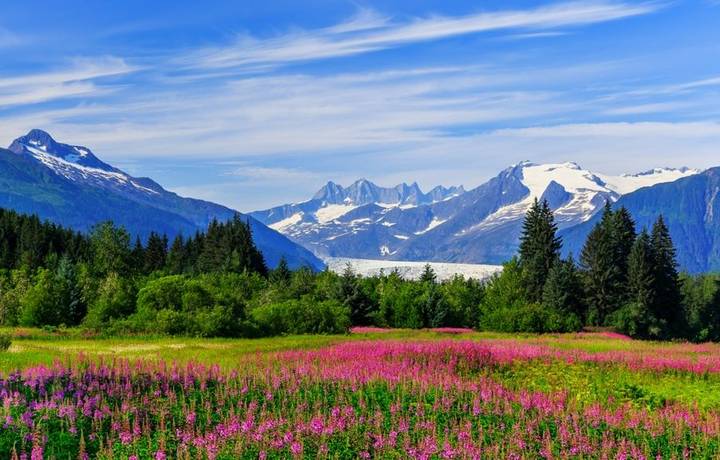 Juneau
Juneau is completely surrounded by nature, stunning towering mountains and the waters of Gastineau Channel. This town is not accessible by road which gives it an air of secrecy and charm. Juneau offers an amazingly wide range of activities, including whale watching, zip lining, fishing and dining in one of the Wild West themed restaurants. Visit Mendenhall, a magnificent 12-mile-long river of ice for spectacular views of this dramatic scenery.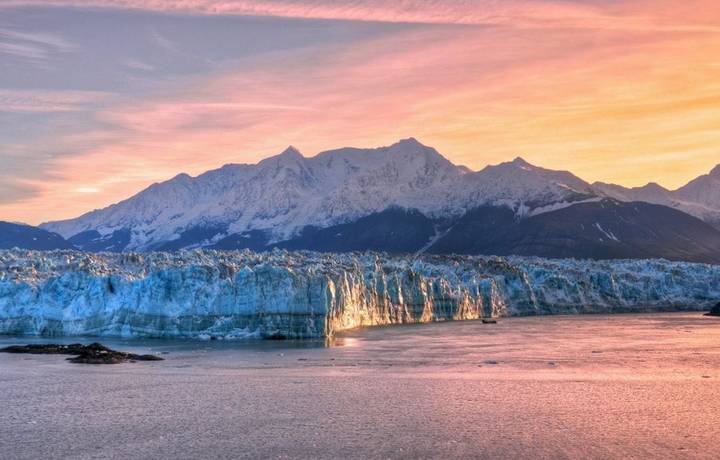 Hubbard Glacier (Scenic Cruising)
Hubbard Glacier (Scenic Cruising)
The Hubbard Glacier is a spectacular sight. Rising from the icy waters, this magnificent glacier enchants and intrigues passing visitors. Over six miles wide and 400 years old, this impressive natural wonder reflects beautifully over the deep blue waters surrounding it.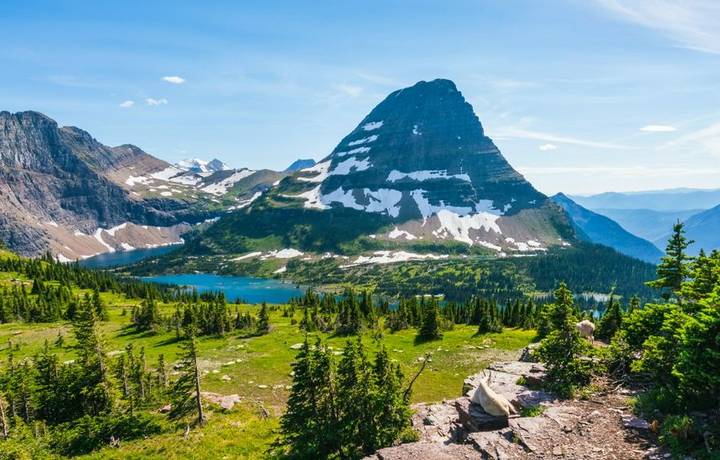 Glacier Bay (Scenic Cruising)
Glacier Bay (Scenic Cruising)
Glacier Bay offers beautiful glaciers, towering snow-capped mountains, spectacular wildlife, lush rainforest – mile after mile of pristine landscape. There are countless ways to enjoy Glacier Bay's natural wonders from the Glacier Bay Day Cruise to whale watching, sea kayaking, flightseeing, or hiking.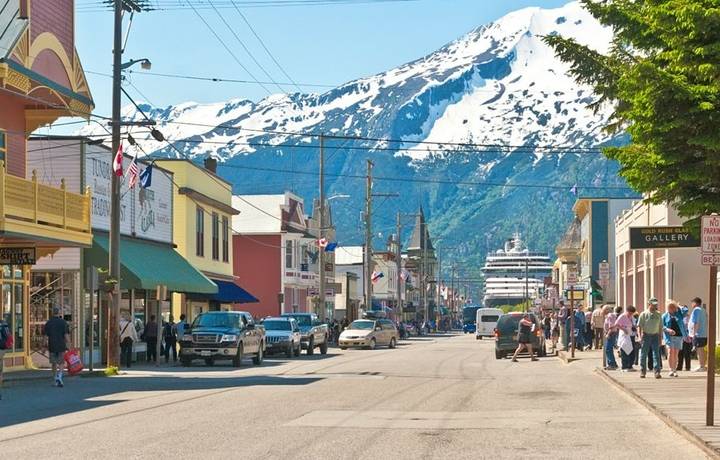 Skagway
Skagway is a beautiful scenic town filled with Alaskan hospitality, history and charm. Visit the beautiful mountains where you can take in so much of this town's charm and atmosphere through activities such as bird spotting, kayaking on the lakes, panning for gold, dog sledging, fishing or just walking and taking in the spectacular surroundings. For those wanting to stay closer to town, walk around Little Skagway where you'll experience the feeling of a true frontier western town with Broadway offering you shops and delicious local cuisines.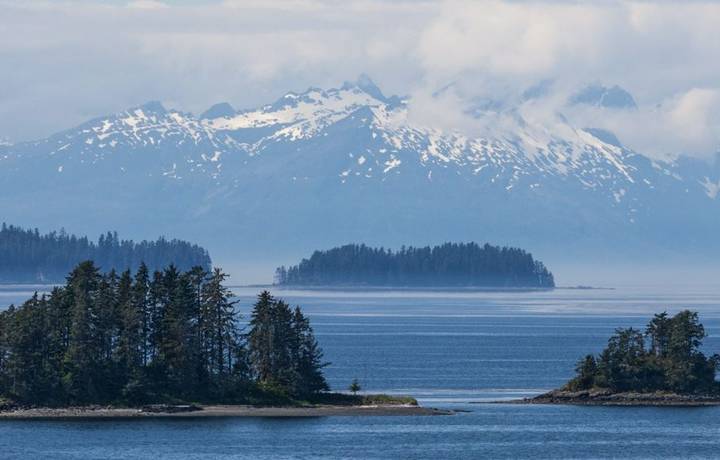 Sitka
Sitka is a hidden beauty on Baranhof Island, facing the Pacific Ocean but towered over by Mount Edgecumbe, a dormant volcano similar in shape to Japan's Mount Fuji. Once part of the Russia, it blends reminders of its Russian heritage and native Alaskan culture. There are a number of wildlife attractions here including the Alaska Raptor Centre that rehabilitates injured birds and releases them back into the wild.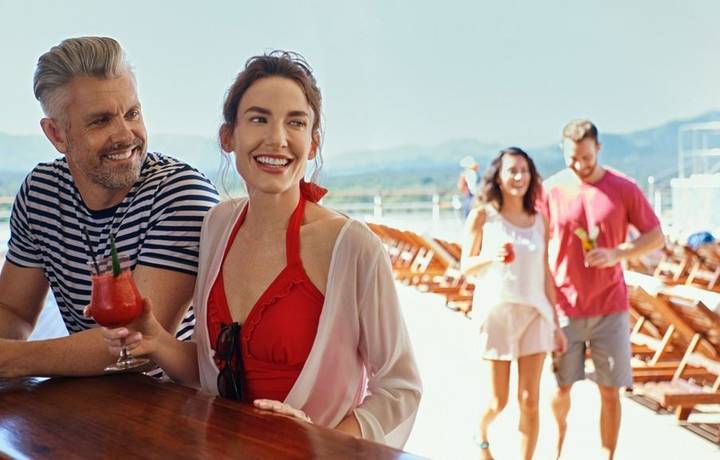 At Sea
Queen Elizabeth offers an array of elegant bars and lounges to suit every mood – during the day, sip coffee and nibble on croissants in Café Carinthia; enjoy pre-dinner drinks in the Midships Bar; toast friends in the Champagne Bar; and dance the night away in the Yacht Club.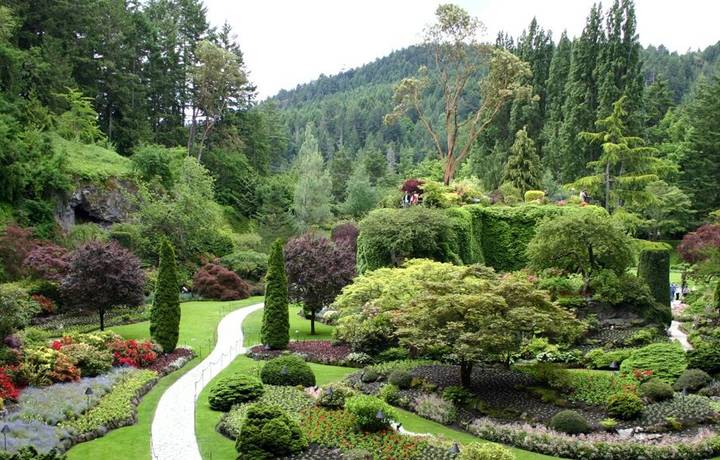 Victoria
Victoria combines the old world charm of afternoon tea and antique shops with a confident new outlook, evident in its bohemian shops and innovative restaurants. This bicycle-friendly seaside city is easy to explore and offers a host of attractions, including the beautiful Craigdarroch Castle and Butchart Gardens, and outdoor activities including wildlife tours and whale watching.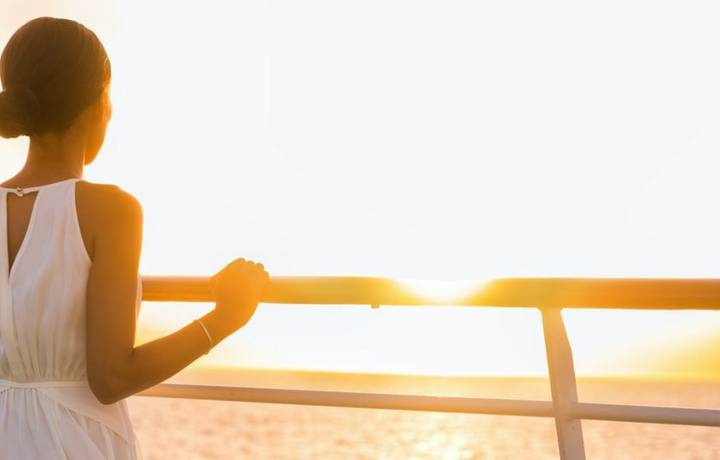 Vancouver
- Disembark Queen Elizabeth
Vancouver - Disembark Queen Elizabeth
Your unforgettable transatlantic treat complete, you'll be transferred to the airport, ready for your flight back home.
Welcome aboard the Queen Elizabeth
When Her Majesty the Queen conducted the naming ceremony in her own honour in October 2010, she continued a marvellously regal formal cruising tradition. Cunard has maintained all the refined styling, amenities and service associated with the Golden Era of cruise sailing and added modern facilities, leisure and entertainment opportunities. Stunning accommodation and the most exceptional fine dining you'll ever experience at sea are highlights of the glorious Queen Elizabeth cruise ship. Dance in the grand ballroom, enjoy afternoon tea served by white-gloved waiters, watch extravagant stage shows in opulent theatre surroundings or simply relax and revitalise beside one of the two lovely pool areas.
Entered service: 2010
Tonnage: 90,900
Number of Decks: 12
Passenger Capacity: 2,092
Total Crew: 1,020
Number of Cabins: 1,046
Wheelchair Accessible Cabins: Yes
Number of Pools: 3
Number of Restaurants: 3
Kids Club: Yes
Entered service: 2010
Tonnage: 90,900
Number of Decks: 12
Passenger Capacity: 2,092
Total Crew: 1,020
Number of Cabins: 1,046
Wheelchair Accessible Cabins: Yes
Number of Pools: 3
Number of Restaurants: 3
Kids Club: Yes
regional flights available at a supplement
CALL TO BOOK:
1800 924 450
HOLIDAY CODE:
REP2485